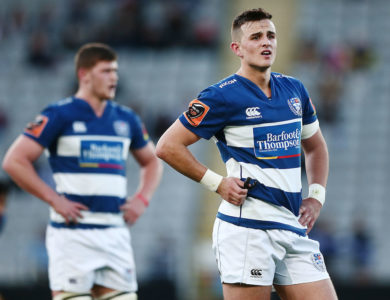 Harry Plummer and Blake Gibson are testimony to the importance of having rugby players who make a mighty impact off the reserves bench.
On Saturday night with the Blues dominating territory but trailing the Highlanders 13-15, first-five Plummer and flanker Gibson had just 13 minutes action before 36,000 Eden Park fans to wrest a deserved Super Rugby Trans-Tasman victory.
They did it in style, Gibson scoring a try converted by Plummer from the sideline after he had succeeded with a wide-angled penalty.
Those 10 points received a rapturous reception from Blues fans whose last Super Rugby title came 18 agonising long years ago.
With electrifying left wing Mark Telea scoring from a well-placed Otere Black cross-kick, the Blues were the only team to score tries. Black also converted one and kicked a penalty.
In reply, Mitch Hunt had succeeded with four penalties before Josh Ioane's in the 66th minute gave the Highlanders the lead.
As always, the tenacious Highlanders were gallant in defeat despite being battered by the powerful Blues scrum and struggling to match their opponents at the breakdown.
Yet they remained fierce competitors who defended courageously despite the Blues 70 per cent territorial advantage.
But since head coach Leon MacDonald joined their ranks, the Blues have gradually gone from a bunch of individuals into a team that has learned to gel although loose passes still negate promising scoring opportunities.
Their driving maul is a dangerous weapon and the backline functions better when Finlay Christie, Otere Black and TJ Faiane occupy the three inside berths though Plummer's contribution has also been good.
The lively Christie lost nothing in comparison with the exceptional Aaron Smith this time and Black almost matched the gifted Mitch Hunt who is the only first-five to have outplayed brilliant Richie Mo'unga this year.
With Scott Gregory/Michael Collins and Faiane/Rieko Ioane combinations cancelling out each other with strong defence, there were few opportunities for each team's dangerous wings to prosper.
While a tight five that embraces five All Blacks has won deserved acclaim, there is also genuine talent in loosies Dalton Papalii, Hoskins Sotutu, Tom Robinson, Akira Ioane and Gibson.
All have been outstanding, especially the strapping former Pakuranga star Papalii who looks destined to add to his three tests as an All Black. And it was the athletic Sotutu whose strong fend and swerving run paved the way for Gibson's try.
His decision to follow Papalii's move to Counties is a big blow for Auckland.
With defence being the dominant factor, there was not much space for Ioane to demonstrate his attacking class. However, it was pleasing to see him bend his back and grind hard for the team cause.
It is that kind of competition within the squad that is strengthening their character and desire.
Having joined the Blues and Highlanders in being unbeaten through SR Trans-Tasman, the Crusaders will rue missing out on the final because of their inferior points differential.
As SR Aotearoa champions who played all New Zealand and Australian franchises, they remain this country's best.
But if the Blues continue to gel and gain the consistency they lacked, they can seriously challenge Crusaders who have won five consecutive Super Rugby titles.
Ivan Agnew is an award-winning sports writer