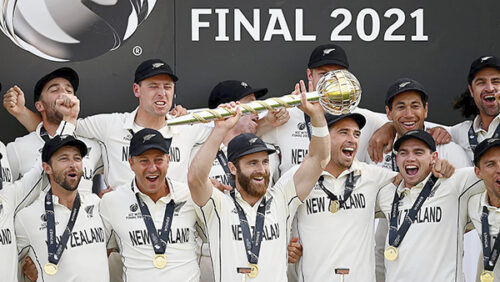 All the stars aligned for the Black Caps and their historic victory over mighty India in the World Test Championship, says Howick Pakuranga Cricket Club president Nick Craig.
"I was just over the moon. It was a huge reward for the effort and consistency and selection that's been put in the New Zealand team from the very dark day in South Africa when (Mike) Hesson and (Brendon) McCullum's team got bowled out for about 45," says Craig.
"The two of them, they've resurrected not only the humility of playing the game – which tends to be the New Zealand way – but also of looking for good people and good team members … they've blossomed because there has been a consistency in selection."
Craig, whose son Mark is a former Black Caps spinner, says the win will be positive for the game.
"I think it will have a big impact on young cricketers. It gives them a goal now," he says.
"We're so fortunate at the Howick Pakuranga club because – the season just past – we got two people onto the New Zealand contract list – Glenn Phillips and Brooke Halliday. It's not just about the males. It's a superb effort for a local girl to be given that opportunity. I'm pleased she turns out for our club when she can. Her contribution to that club team has been immense."
Craig believes team culture and astute coaching have combined to build a formidable squad.
"Guys like (skipper Kane) Williamson, guys like (Tim) Southee – I don't know enough about Ross (Taylor) to comment – they're pretty much drivers of that culture," says Craig.
"Timmy can be a bit of a lad but at the same time he's got a commitment. He's one of those guys, he gets out of form and everyone gets on the bandwagon to get rid of him, he always comes back and reinvents himself.
"You get people in coaching who are specialists in spin or batting or wicket keeping – there's the odd diamond out there who's an all-round good coach. The good coaches – and I put my hand up for Hesson here – "I'm not too good at this pace, I'll get (Shane) Bond in, I'm not too good at batting, I'll get Craig McMillan in"…that, to me, is part of that coaching because it shows there's no ego.
"Over the years coaches have tended to have a bit of an ego – my way or the highway – and that's not necessarily right. You can't coach them as robots. They're not all the same.
"Some you put your arm around and give them a hug and some you give a kick in the arse because we're all different and some respond differently. The team talk and rousing you associate with rugby doesn't always work with cricket because of the different personalities that come into the changing room."
The Black Caps victory in this format of the game is particularly special, possibly more so than the One Day World Championship NZ so very nearly claimed two years ago against England.
"White ball cricket whether it be Twenty20 or the 50 over game has really become the money train but if you talk to all these players – and I just relate to another one of our former Black Caps Mitchell McClenaghan at the club – he would have loved to have played test cricket," says Craig.
"You talk to the boys around the first class circuit, they all say the pinnacle is to play test cricket. They may get more money, they may get more opportunity because of frequency of games, but they all want to play tests. As the name suggests, you're testing yourself against the best."