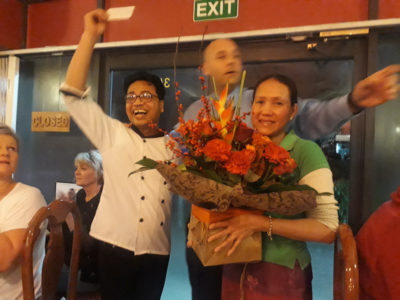 The appetising food served over the years by Sopheara Cambodian restaurant in Flat Bush must have made a lip-smacking impact for its loyal customers to turn up in large numbers on their last day of business.
Both Sopheara and her chef husband Ra, the hardworking couple behind the Cambodian restaurant on Chapel Rd, were overwhelmed with the support they got on the eve of shutting shop.
Local resident and artist Sher Bramwell invited a table of 20 to honour Sopheara and Ra. "They are so gracious and the food has been consistently good over the years. We are really going to miss them," she said.
Mike Turinsky who is close to the family and has mentored their son Prince at Botany Downs Secondary College, said, "It's rare to find people who do the hard yards and do it without complaining. It's both inspiring and humbling."
The restaurant was packed to the capacity on Thursday night and there was not a single table or chair vacant. Extra chairs were added at every table as regulars flowed in to have their last supper cooked by chef Ra.
They were surprised when they were called out from the kitchen to a round of applause.
Unbeknown to them, Sher had arranged a bouquet of flowers and a card signed by their customers.
Even Lee who waits tables was called centre stage and acknowledged for her excellent customer service and her cheeky-monkey smile.
And while everyone present wanted to know about Sopheara and Ra's next foodie project, the couple said they would take a break after years of working long hours and then decide where or what they want to pursue.