History was made at Riverhills Park on March 30 when Bucklands Beach AFC took on Fencibles United in round one of NRFL Division 1 football.
In an epic local derby, BBAFC fought back to take the win, 4-3.
This was the first time that the two local clubs had faced off against each other with their top men's teams due to Bucklands Beach having gained promotion the season before.
Riverhills Park was in excellent condition, the sun was shining and there were more than a couple of hundred supporters in attendance.
This was a match up for two new coaches Rudy Mozr for Bucklands Beach and Brian Murphy for Fencibles, both having taken over the reins for the new season.
Bucklands Beach scored first with a penalty to Ben Culpan in the 5th minute.  Fencibles came back in the 29th minute with a goal to their new import Cobi Allen.  At half time, the game was all tied up at 1-all.
Whatever Mozr said to the boys at half time worked as one minute into the second half and Josh Smith scored after a blistering run down the left.  Bucklands Beach took the lead but Fencibles had fight to score the next two goals in three minutes, to Scott Booker and then Luke Bulay who had a commanding presence in the middle of the pitch.
Bucklands Beach kept attacking out wide with powerful running by James Hoyt and Josh Smith with reward in the 67th minute when Josh scored his second goal to make it 3-all.
Then in the 73rd minute Iwa Shaker of Bucklands Beach was taken down in the box, a penalty was awarded.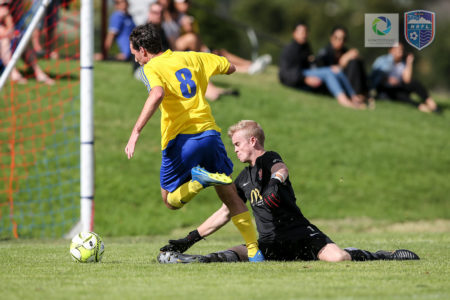 Culpan stepped up again and slotted his second penalty of the afternoon.  Bucklands Beach took the lead 4-3 and held on to record a memorable win.
As Bucklands Beach's manager Paul Mackenzie said, 'This is a significant result in football for east Auckland. No longer can Bucklands Beach be thought of as the small neighbour."
They do it all again in the 12th round, June 15 at Lloyd Elsmore Park.