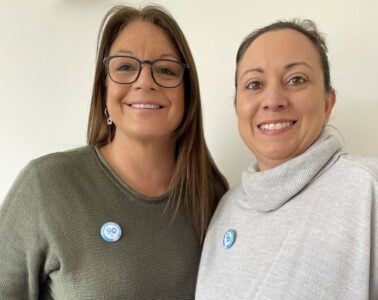 A small Cockle Bay company has launched an initiative supporting Super Saturday – a campaign to bolster vaccination rates – this weekend.
Robyn Viljoen, a director at consulting business Cyan People, says the initiative is to get local businesses to buy badges to give to their staff, customers or community to show their support for the vaccination drive. It is also an opportunity to raise funds for The Mental Health Foundation.
"As a small business in New Zealand directly impacted by the Covid-19 lockdowns, we decided to do something positive," Viljoen says.
"At Cyan People, we believe the best solution to get New Zealand to level 2 is to encourage
people who are eligible, able and willing in our communities to be vaccinated.
"If we can reach high vaccination rates this will give us the freedom to go back to work, school and social activities."
They are selling badges that can be shared with colleagues, customers, friends or communities to show their support.
"We would like to raise funds for The Mental Health Foundation and 50 cents from every badge sold will be donated to this worthy cause.," says Viljoen.
"The need for mental health support in our communities remains heartbreakingly-high. There will be many Kiwis that are having a tough time right now and we want to ensure they have someone to help them.
"We are grateful to The Apothecary, Daisy Chang and Unichem Mainstreet Pharmacy who were quick to support the cause.
"Please support this cause by purchasing and wearing these badges. We can only sell these in minimum quantities of 50 as this makes postage and distribution manageable.
"If you are close to Howick, select the pick-up option and we'll get this to you in time for Super Saturday. If you know of any businesses that can help, please share this with them."
Here is a link to the campaign and to secure badges