By Farida Master
Going by the applause at every jab he took at Phil Goff, it looked like mayoral candidate John Tamihere was the winner of a mayoral debate between Tamihere, Goff and John Palino at the Fencible Lounge on Saturday.
Organised by the Howick Residents and Ratepayers Association, Tamihere had come with sharpened claws as he hit out at Goff, openly calling him "a disgrace".
"Under his leadership, things have got out of control. This mayor doesn't understand business–from our rates going up to petrol prices, housing and faceless, non-elected bureaucrats of Council Controlled Organisations (CCOs) controlling Auckland Services; and million-dollar reviews that no one gets to read," Tamihere said.
The former Labour Party Minister clearly won round one as the people in the room openly applauded while Goff put on a brave front.
Tamihere laced his repeated attacks with one-liners. "It's not about left or right—Auckland gets left and right in the present leadership."
Third-time candidate Palino sat between Tamihere and Goff and was the perfect foil between them when things got heated.
Palino refused to draw blood and instead preferred to focus on finding a solution to the traffic congestion as he pushed the idea of satellite cities and spoke up for small businesses.
"Socially we are a failure. The house prices have not jumped because of immigrants or foreign investors but because of the Unitary Plan. What we are doing is clearly not working. We need to do things differently.
"Only 15 per cent of the people work in CBD, you are leaving the other 85 per cent out," he pointed out.
It was interesting to note that while John Tamihere is standing for the Auckland mayoralty with former National Minister and Auckland councillor Chris Fletcher as deputy designate, Goff often referred to Fletcher for silent support as he refuted some of Tamihere's allegations.
Goff tried to score the second round talking about the Eastern Busway.
"We have added more bus routes and there are many more people travelling on buses now.
"While we had planned for 3500 houses a year, in 2019 we have consented to over 14,000 new homes. We are building a lot more terraced apartments. Housing First had housed 5000 people. While the plan for wastewater spills into the harbour was a 30-year plan, I have demanded that the overflow be stopped in less than a decade as we separate stormwater with the wastewater."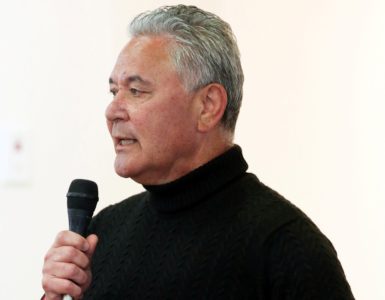 Goff also touched on the sore subject of the 360 degrees view shaft at Stockade Hill saying the Unitary Plan had got it wrong and that Howickians are now assured of 137 degrees of sea views–to which he was curtly informed by members of the audience saying he had been wrongly informed.
The fight for the race to the mayoral post clearly seemed to be between the two experienced politicians as Goff was beginning to get a little hot under the collar. It felt like Tamihere had got under his skin by the end of the debate.
It led one of the local politicians to comment saying, "It's easy to promise the world when you are not in power. The real test is when you are in the hot seat and can deliver."
As the Times went to press, mayoral candidate Palino has pulled out of the mayoral race, saying he would like Tamihere to have "the best chance to win".