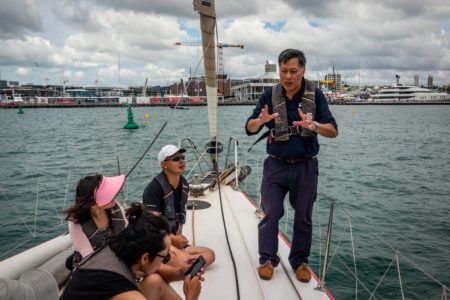 Summer has definitely arrived in Auckland.
There's one summer pastime Kiwi's love to do and that's get out on the water.
Rear Commodore – Power at Bucklands Beach Yacht Club Wayne Huang loves his boating so much so that he is encouraging the wider community to experience sailing and come down to Auckland's CBD and Viaduct Harbour to experience the world's greatest yachting event, The America's Cup
Not only that, on Monday February 1, is the 181st Auckland Anniversary Day regatta, the largest regatta of its type anywhere in the world. Huang will be sailing on Steinlager 2 with a number of guests on board.
Share Boating, a local Auckland boating company, together with the New Zealand Sailing Trust, have held two successful open days, December 20 and January 17, designed for the local ethnic community.
The third will be on Monday, February 1, Auckland Anniversary Day.
Intended to promote sailing to new Kiwis and integrate them into one of New Zealand's favourite leisure sports, the take-up was amazing and each event overbooked. Sailing on New Zealand's famous round the world yacht Steinlager 2, designed by Sir Peter Blake, has got to be a dream come true for many.
Share Boating has partnered with the New Zealand Sailing Trust to offer these special open days for the local ethnic community and get them on the water experiencing the excitement of one of New Zealand's favourite leisure pastimes.
A unique selection of sailing packages and Prada Cup and America's Cup viewing packages are available which offers the thrill of watching America's Cup yacht racing from the water.
Wayne Huang, Share Boating founder and CEO, was appointed Cultural Ambassador to New Zealand Sailing Trust.
As Cultural Ambassador Huang educates and promotes the excitement of sailing and helps new Kiwis integrate into the Kiwi way of life.
"Our aim is to help all New Zealanders to have easy access and enjoy water leisure activities and understand water safety," Huang says.
"We have a range of tailor-made youth packages for New Zealand's future business leaders to learn to live with the values of leadership, courage, teamwork and an appreciation for the environment."