Donations have started to pour in for the Protect Stockade Hill Views Appeal and the fundraising effort will ramp up in the coming weeks.
The Howick Ratepayers and Residents Association (HRRA) has lodged appeals to the Environment and High Courts against Auckland Council's decisions on the Auckland Unitary Plan (AUP).
The HRRA is now calling on Howick locals to help support its fundraising appeal to fight the plan changes which threaten views of the Hauraki Gulf from Stockade Hill and Ridge Road.
Chair of the HRRA, Gayleen Mackereth, said lodging the appeals has already cost the association thousands of dollars.
She said being a small organisation, it needs support.
"The HRRA are prepared to take this on, this action for all the people of Howick now and in the future, with help from the public."
Mrs Mackereth said contributions both large and small have been steadily coming in since the fund was started last week.
"But we need much more to keep going. Every contribution is appreciated."
She said it is imperative Howick keeps its superb views from Stockade Hill and Crawford Reserve for posterity.
"We must fight hard to stop the present zoning allowing three storey apartment buildings forming a wall blocking our views on the seaward side of Stockade Hill."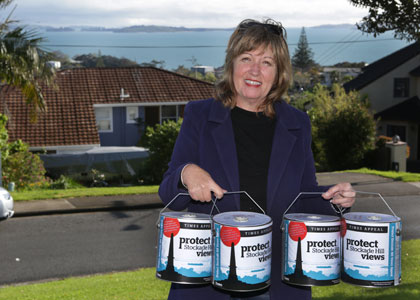 One way the HRRA is planning on raising money is by hitting the streets with donation tins.
The tins were donated by Resene following the Christchurch Earthquake and have been used for various fundraising efforts in Howick, including the Red Cross appeal to raise funds following the Typhoon Haiyan disaster in the Philippines.
Howick Ward councillor Sharon Stewart has kept the tins at her home ready for the next collection. This time it's local.
We will keep you informed when and where the collections will be held but in the mean time, if you have an event and wouldn't mind people turning up with collection tins, please let us know.
A specific account has been set up for donations with the ASB. Howickians willing to support this urgent cause can make donations to "The Howick Ratepayers and Residents Association" Acct # 12 3089 0123712 02.
You can also sign the HRRA petition at these retail outlets: Howick Information Centre, Michael's Emporium, Silks Jewellery Store, Unichem Main Street Pharmacy, Spillers Hammer Hardware.