Nominees for Junior Sportsman of the Year
Jack Chapman 
13-year-old Jack attended Bucklands Beach Intermediate in 2019 and has been a member of the Bucklands Beach Tennis Club for 8 years. He's currently playing First Grade Mens Interclub in the Auckland Tennis Senior competition. Jack has reached Tennis NZ Gold Criteria status which means he is under Tennis NZ contract and funded for international travel, accommodation and coaching.
Jack is an extremely talented sportsman  – in  2019 he was named the Auckland Tennis Boys Junior Player of the Year winning many championships in both singles and doubles.  He successfully competed in Malaysia, Europe, Australia and NZ.  In school tournaments Jack won a gold and two silver medals at the AIMS games Tennis Tournament and he was the winner of the Auckland Schools Tournament.
Traye & Harrison Wildbore
Cousins Traye and Harrison are equally very talented – they both train and play hard in their diamond sport games – both excelling in Baseball and Softball.
These boys have been Auckland A Reps;  have received Tournament Team Awards from National Tournaments (both Auckland U18 Representatives)  and more recently were selected for the NZ Junior Black Sox Team that just played in the World Championships in Palmerston North,  televised live on Sky TV.
These boys both batted well in the tournament and were recognised constantly for their skill and playing abilities throughout the event.  Pretty cool hearing from the commentators on so many occasions "that they were from Howick Softball Club" – the club are very proud!
These boys have been playing up in the Howick Premier Men's team for this season, due to their outstanding abilities and both are worthy nominations as their skill's outweigh their ages.
Harrison also was selected for the Junior Black Sox prior to the World Championship that competed in the Queensland U18 State Championships.
James Trathen
Representing Pakuranga Athletic Club, James has demonstrated this season that he is the fastest middle-distance runner for his age in New Zealand as he is unbeaten in all races over 800m, 1500m, 1 mile and 3000m.  He has won the NZ Road Race Championships, five gold medals at Colgate Games – (New Zealand's premiere children's track and field competition) – and multiple golds at both Auckland and Counties-Manukau Championships.  He also demonstrated his all-round track and field abilities by winning the Athletics Auckland Junior Pentathlon Championships with a total points score 21% higher than second place.  This season he has also set two Auckland, one Counties and five Pakuranga club records. 
Thomas Staples – touch rugby
Here's a list of Thomas's  touch and  rugby achievements:
· Howick College Premier Mixed Touch Team
· 2nd at Galaxy Secondary School tournament
· Winners of the Auckland Competition
· Winners at New Zealand Secondary School Touch Rugby Nationals 2018
· Counties Manukau Under 18 Boys Touch Rugby Team
· Runners up at NZ Nationals
· Counties Manukau Under 21 Mixed Touch Rugby Team
· Winners at NZ nationals
· New Zealand Under 18 Boys Touch Rugby team—2020 Trans-Tasman Tournament
· Howick College 1st XV Rugby team member
WINNER of the Junior Sportsman of the Year:
James Trathen – Pakuranga Athletic Club
Nominees for Junior Sportswoman of the Year
Vivian Lu 
In the past 12 months, Vivian has been in :
The Macleans college Premier Golf team
The APGC Junior  Championship team , which placed Third
The Woman's Amateur  Asia-Pacific championship team
Australia Girl's Amateur competition placing 9th
Placed 2nd in the New Zealand woman's  Stroke  play Championship
The Queen Sirikit Cup
Placed third in the NSW Amateur  comp.
In the winning team in the Interprovincial comp.
Member of winning team at the secondary school nationals 2019.
Keana Farani
Keana Farani is an U12 player for the Pakuranga United Highlanders. Keana plays in a mixed team in an open weight grade often playing against much larger boys but she always holds her own. She had an outstanding 2019 with the Highlanders constantly being one of the better players in the side.
Keana was selected for the Auckland Rugby Union U13 Eastern Storm (playing against girls a year older than herself) and was awarded Most Valuable Player of this representative side which went unbeaten in 2019.
The Pakuranga United Rugby Club have acknowledged her achievements by awarding her the Chas Olsson Shield for the most "Outstanding Representative Player" – certainly A star on the rise!
Madeleine Hunter  – Mountain Raiders BMX Club
After a couple of really tough seasons and big crashes – most notably, a spectacular departure from nationals as well as the 2018 North Island titles by way of broken shoulder and both wrists,  Madeleine Hunter's fortunes on the track are finally aligned with her ability.
Kicking  the season off, Madeleine pulled together a spectacular ride to take out the Oceania titles in Te Awamutu with an O1 plate, battling hard against a trans-tasman contingent.  Jumping forward to Nationals, Madeleine continued her run of fine form, finally securing the coveted NZ1 for 10 year old girls.
Maddie also claimed the NI2 plate at the 2019 North Island titles in Tauranga,  allowing her to  claim the rare feat of 3 podiums across the 3 major meetings of the season.
This is girl that despite her love (and success) with riding bikes – takes on the challenge of sport in general with recent trip to Brisbane for baseball, as well as being a more than handy netball and basketball player – Maddie embodies all the traits of model young sportsperson.
Marielle Venida –  Athletics
Marielle has had another stellar season on the track this season.  Without doubt the fastest Grade 14 girl in New Zealand over 100m and 200m, Marielle won gold medals at the Colgate Games, Auckland Championships and Counties Manukau Championships.  Marielle also set Auckland and Pakuranga club records that didn't just break, but smashed, previous records.  Marielle capped her season off in great style at the recent New Zealand Track & Field Championships in Christchurch.  Competing in the WU18 grade, against athletes up to three years older than her, she finished 3rd in both the 100m and 200m.
Nanise Waqaira
here's a list of some of  Nanise's Netball achievements:
·  Captain of the Howick College Premier Netball Team, which were
· 2nd in Auckland Competition
· 3rd Upper North Island Secondary Schools Tournament
· 5th New Zealand Secondary School National Tournament
· ANZ Mystics Training Partner 2018/2019
· ANZ Mystics player
· BEKO Marvels player
· Player of the season
· Named in Pathway to Podium programme for the Youth World Cup Netball Tournament
· ANZ Stars Training Partner 2019/2020
· Nanise is also a member of the Premier Girls Volleyball Team
WINNER of the Junior Sportswoman of the Year
Madeleine Hunter – Mountain Raiders BMX
Nominees for Junior team of the Year
13th Grade Metro – Football
Bucklands Beach AFC 13th Grade competed and won the top age group league within the Auckland Football Federation.  During July holidays they competed in Sydney against the top representative teams from around Australia, many teams from A-League clubs.  They came an extremely credible second.  Not just a winning team but a well-behaved team having never received a yellow or red card all season – there's something to be said for that!
Blake Hinsley and Nicholas Drummond – Class: RS Feva Yachting
16 year old Blake Hinsley,  was the skipper and previously sailed in the Optimist class & P Class, winning the 2019 Tanner Cup & coming second in the Tauranga cup, which are both P class events. Blake currently also sails in the Starling Class and  previously competed very successfully in junior drag racing. Blake lives in Cockle Bay & attends Botany Downs College.
16 year old Nicholas Drummond  crewed  in the RS Feva class. Nick previously sailed Optimist & represented NZ at the 2018 Asian championships in Myanmar. Nic sailed an Open Bic in the 2019 World Championships in NZ (ranked 38th) and currently also sails a Starling & is team captain for the Macleans College 420 sailing team. Nick lives in Mellons Bay.
Botany Downs Secondary College Premier Badminton Girls
2019 team of the year at the college sports awards, taking that title over the 1st 15 and prem girls football team, both of which had great seasons.
Winners NZ Secondary Schools Title – the schools 1st national title in an Olympic sports in the schools history. Team members are: Roanne Apalisok, Ashley Tan, Angelina Ung, Katarina Ung and Nishika Jain
Howick Softball U13 Girls  
The Howick Softball Club is very focussed on ensuring that females within the club are given as many opportunities as possible to play the sport.  The U13's team has been remarkable in the last 12 months.
Winners of the Auckland Softball Championship Trophy for two years in a row – this team remains unbeaten.
Coached by Mike Ruhe, the girls are very focussed and hardworking with 3 of their players being named in the Auckland Under 13 Rookie Sox Teams, competing in Wellington at the National Rookie Sox Tournaments in February.  One player, received Tournament MVP – Skylah Breeze Joyce.
This team shows that no matter what age they are, girls can achieve in sport as they are demonstrating.  They have beaten boy's teams over the season and will be a force to be reckoned with moving into the future.
Howick Rhythmics Competition Team
This junior team competed in competitions in the Auckland and wider North Island as well as a national event in Christchurch last year. The gymnasts bonded with one another and trained extremely hard to achieve fantastic results, with girls placing in the top six at every competition. The team who went down to Christchurch achieved twenty-one medals between the eight athletes which is a fantastic feat. They are incredible young girls who put in so much effort into each and every class and excelled in their sport last year.
WINNER of the Junior Team of the Year  – Blake Hinsley and Nicholas Drummond – Bucklands Beach Yacht Club
Nominees for High School of the Year
Macleans College
Macleans College continues to provide top quality sports teams across the board, as well as a high participation rate. With a huge focus on 2019/2020 to get students engaged and be active more often.
Macleans has massive social sport involvement, with over 400 Students involved in Saturday social sports, including Basketball, Badminton and table tennis. All these programmes are run in house and coordinated through the school to promote active participation across popular school sports
Inter School house sport runs throughout the year at lunchtime, gives students the opportunity to represent their house in playing and coaching positions regularly, nurturing a healthy sense of competition throughout the school year. Students are regularly used to officiate and run these programmes with guidance from the sports department
Achievements for school teams includes:
Golf Secondary schools national Champions
Mixed Tennis national Champions 2019
3rd Place Badminton Nationals
2nd Place + 4th Place I Table tennis Nationals competition
Individual success in Akl schools Mountain Biking
Rugby 1B Semi Finalists
Hockey 1st XI girls Auckland Open A/B grade champions
Botany College
Botany College 1st XV has been nominated after they won the Auckland Rugby Union 1B 1st XV competition in 2019.
Botany College is not a traditionally strong rugby college but they have worked really hard to ensure they put together a top team in this competition that went on to have great success.
When visiting Pakuranga United Rugby Club, the Boys were all immaculately dressed and treated the facilities with the upmost respect. The team was also well coached and managed.
WINNERS of the High School of the Year – Macleans College 
Nominees for Primary/Intermediate School of the Year (one nomination in this category)

Bucklands Beach Intermediate
Bucklands Beach Intermediate School (BBI) has an excellent reputation for having a comprehensive sport programme. In 2019, one of the highlights was the success of their AIMS Games team. They won 41 medals, more than any other of the 346 schools. This placed them  3rd on the medal table and the top Auckland school. BBI students train hard, play hard and play fair, students stand by their school motto – 'Whaia Te Tikitiki Reach for The Heights'.
BBI had a talented group of students in 2019. BBI students and staff are so passionate about sport and see countless benefits of how sport provides life-long, positive memories. BBI offer a wide range of sport opportunities, other than the typical school sports; for example: sailing, equestrian, cheerleading, skiing, hip-hop, aerobics, trampolining, mountain biking, indoor bowls and water polo. 
WINNER – Bucklands Beach Intermediate
Nominees Masters of the Year
PURC Presidents Team
The Pakuranga United Presidents Rugby Team is made up of over 35-year-olds who play in the Auckland Rugby Union competition.
The club has a long tradition of winning in this grade with our 2019 side going through their 19-game season unbeaten (the second season in a row). Playing a full contact sport when aged in your late 30's, 40's and some in their 50's is not an easy thing to do especially in the highly competitive Auckland Presidents competition.
On top of playing, this team is also the heart and soul of the Club as they help out around the club ensuring our committees are well stocked with volunteers and helping raise lots of funding that keep the club afloat on a day to day basis.
Angela Hart
Angela Hart is a Life Member of Howick Tennis Club Inc. She has held numerous roles on the Club Committee between  1999-2017. Captain of Midweek Ladies Monday Championship 1 team and she's also part of the Senior Interclub Open Presidents team.  Angela  has been on various Committees at Auckland Tennis, including  President from 2018-19. Angela was 2nd in 70s Nationals in Jan 2020 for Mixed and Ladies Doubles.
WINNER of the Masters of the Year – Pakuranga Pressies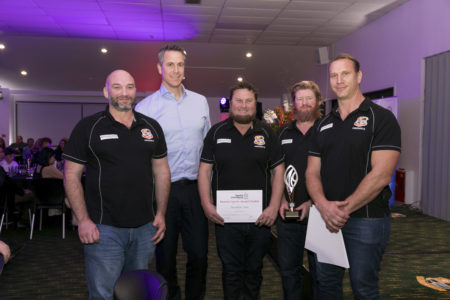 Nominees for Official of the Year
Cruiz Overend
Cruiz is a 14-year-old touch referee who refs at two modules being Pakuranga UNited Rugby Club and Beachlands.  He was chosen to referee by Touch NZ at the IPS, Junior Nationals and Secondary Schools competitions.  He was also chosen at the PURC module to referee one of the Premier Men's Open Elite Finals.  Cruiz is an outstanding young up and coming referee that has this season shown his absolute commitment and dedication to being an official for the game of touch.
Shaz Papesch
Shaz is a Howick Pakuranga Netball Centre Umpire. Previously nominated in 2017,  Shaz continues to strive towards excellence in umpiring. In 2018, 2019, and 2020, Shaz has been in Netball Northern's Zone Umpire Watchlist, identifying her as an individual having potential to be an elite netball umpire. Shaz umpires at representative tournaments, BEKO netball, and pre-season games for ANZ teams and has been appointed by Netball NZ to U17, and U19, national secondary schools competitions.
Carollynn Frew – bench official
Carollynn has been appointed to umpire the following events:
Local: Regional Premier League
National: National Netball League (Beko), ANZ Premiership, Cadbury Netball Series
International: NZ/Australia/England 'A' Series, Test – Constellation Cup, NZ vs Australia – Scorer 1
Counties Manukau Bench Official of the Year Award recipient.
Rachael Smith
Technical Official (Bench Official and Statistician)
Appointed to the following events –
Local: Regional Premier League
National: National Netball League (Beko), ANZ Premiership, NNZ Under 19 Champs, appointed Scorer 2 for Final, Cadbury Netball Series, Super Club
International: NZ/Australia/England 'A' Series, Test – Constellation Cup, NZ vs Australia – Scorer 2
Gained Zone Award as Statistician
Counties Manukau Bench Official – Award for 20 Years' Service
Caitlin Kimpton – Howick College
In 2018 Caitlin was the first female to receive the Top Youth Referee Award at the NZ Maori's Touch Tournament
Won the Top Youth Referee award at the Counties Manukau Touch Association Awards
Junior National Referee of the year 2019
shared awards of Youth, Masters and Open referee of the year 2019
Supreme Award 2019
Received her Level 3 Touch NZ Referee and she is the Top youth Referee in NZ and ranked 4th Female referee in NZ
Youngest Level 3 Female Touch referee in the World
Named backup referee at the NRL Touch Warrior games 2019
Referee for New Zealand at Trans-Tasman Touch tournament in January 2020
WINNER of the Official of the year –  Caitlin Kimpton
Nominees for Volunteer of the Year
David Becroft
David has been a tireless supporter of Macleans College sport for a number of years. He constantly gives up multiple mornings, afternoons and weekends to help with coaching, managing and refereeing in a number of sports. He is always  ready to put the needs of students and team members before his own to ensure they get the best possible experience.
Peter Donnelly
All clubs rely on volunteers to ensure the day to day running of the club goes well. Peter's work with Pakuranga United Rugby Club is something the club is very grateful to have. Every Saturday Peter is in charge of the club's grounds. He arrives early to set up flags and ropes on Bell Park, put out the rubbish bins, mans the score board during games and looks after the changing rooms for both visitors and members. On top of this he is outstanding at welcoming people into the club with all guests welcomed with a warm smile and a quickly helped with any queries they may have.
Peter also sits on the clubs Senior Rugby Committee where in 2019 he took charge of making changes to the clubs Senior Prizegiving. He did a full audit of trophies and recommended and implemented many changes to make our trophies more relevant to the players. He helped change the format to a more member friendly evening and the result, our largest Senior Prize Giving in the last 10 years.
At the end of the season Peter then also gave his time as a liaison officer for Auckland Rugby for all of the rep games played at Bell Park.
Tim Atkinson
Those that know Tim Atkinson, know that there is actually 5 members of the Atkinson family (despite there only being 4 in the family photos). The Mountain Raiders BMX Track and facility has been under the watchful keep of Tim now for 7 years (with many hours going into the previous track also) Tim literally bleeds Mountain Raiders, with the time, care and attention that goes into everything from the track surface preparation through to ensuring bins are empty and rubbish is taken care of.  An average week would consist of at least 15 hours of his own unpaid time going into the facility maintenance and development with that easily ballooning out to 20 plus around major meetings. Tim has been pivotal in the development and installation of a timing system for the Lloyd Elsmore Track as well as making significant contributions as a member of the Mountain Raiders Committee. Tim manages to invest into the club at this level despite being a NZ ranked rider himself, his son also being a top age group BMXer and wife Claire being heavily involved in bmx event commentary up and down the country.
Lynne Keohane
Lynne has no ties – through children at least – to the Howick Gymnists Club yet she volunteers many many hours.  She has been the chair of the HGC Board for many years until  she stepped down last year.   Yet she is still volunteering for the Club completing funding applications and she's the chair of the 4 year old steering group for a new multisport facility in Lloyd Elsmore Park. Lynne brings in between 60 and 100 K per year through funding applications. The Club has been able to buy lots of gymnastics equipment over the years, thanks to Lynne's totally selfless dedication to the Howick Gymnastics Club.
Lincoln McKenzie
Lincoln has been a member of the Pakuranga Junior Track & Field Committee for the past six years, a member of the Management Committee and a member of the Senior Track & Field Committee (which he is currently chairing),  both for the past three years.
Throughout his time on these committees, Lincoln has worked tirelessly and selflessly for the benefit of the club.  He is one of the first volunteers at the track and is always the last to leave, doing everything from setting  up the BBQ,  the timing equipment and sound system, he is the race starter on club nights, helps with the pack-down of equipment and locks up the clubrooms when each club night is complete.
Lincoln also purchases and maintains equipment (and installs it when required), mows and paints the sector lines on the infield  -he is also a club delegate to Athletics Auckland both Junior and Senior Track and Field.
Lincoln is a World Athletics graded official and officiates on behalf of the club at all Athletics Auckland and Counties-Manukau Athletics championship events.
Justin Green
Justin Green has been a volunteer at the Fencibles AFC  for more years than members can count and was a brilliant goal keeper.   Justin has had many roles within the club from Youth Club Captain to vice chairman and stepping into the Chairman role whenever it was needed – but it was never about the role – it was about doing what needed to be done.  Even when he was not personally well he was still putting  the club before himself.  Everyone has Justin on speed dial – and if you have a football related question his knowledge and willingness to pass on this knowledge is second to none.  Justin  was also one of the clubs top coaches for a number of years in the youth space and senior reserves.  Justin is one of a kind and even though he now has no children at the club he is still there helping and contributing where ever he can.
WINNER of the Volunteer of the year – Lincoln McKenzie, Pakuranga Athletic Club.
Nominees of Administrator of the Year
Paul Matthews
Paul as Buckland Beach Association Football Club Youth Convenor has had the responsibility of overseeing 25 teams and approximately 400 players.  Efficiently organising preseason trails, grading players, dealing with parent's expectations, replying to 100s of emails are all part of the role.    Throughout the season juggling pitch availability, dealing with the council and Auckland Football.  All done tirelessly with proficiency and constant friendliness.
Cezanne Powell
Cezanne is an extremely dedicated member of the  committee at the Howick Rhythmic Gymnastics Club, who helps to run the club as efficiently as possible. She is the club treasurer handling all invoicing, and is in charge of the facility hireage. Cezanne is the liaison with their governing body Gymnastics NZ and helps to establish the club as one that could help as a parent club for other struggling gymnasts clubs in East Auckland. She gives up valuable hours with her family to volunteer her time to help to improve the club and she deserves recognition for the sacrifice that she makes.
Deirdre Frankle
During what has been a demanding, innovative and productive year Deirdre's organisational skills, knowledge and time management at Cockle Bay Tennis Club have been fully utilised. As Club Administrator, Deirdre is  professional  and has very quickly earned the respect of her peers, club members and everyone she deals with.
Deirdre's contribution was recognised at the 2019  Auckland Tennis Regional Awards where Cockle Bay Tennis Club won:
Club Administration Award and Membership, and the Marketing & Promotion Award.
Deirdre's off-court administrative management of the Caro Bowl team was instrumental in the Cockle Bay Tennis Club Team wining  Auckland Tennis's 2019 Men's Caro Bowl competition for the first time in December.
Deirdre's valued contribution to the Club over the past 20 years was acknowledged and recognised this time last year when she was awarded a Club Life Membership.
Amanda Dyason
Amanda is a Professional administrator who was taken the sports of Netball and Touch to a new level at Pakuranga United. Amanda was the driving force behind starting both Junior and College Netball grades at the club after initiating seniors 7 years ago.  She has grown it to a point were Pakuranga United Netball are now one of the biggest Clubs at the Howick Pakuranga Netball Centre. She has put in systems and people to oversee and run player registration, team selection, coaching and  management, game day volunteering and the running of the  umpires. This is on top of her core role at the club which is running the cash books whilst overseeing the Junior Rugby and Touch Administrator.
Just when things are going really well and everything is super busy Amanda has another idea that the sport of Touch needed to be rejuvenated with a Men's Premier Competition that was both competitive and entertaining to watch. Through sheer hard work from Amanda the PURC Premier Touch competition was born with 8 elite teams contacted and entered into the league. Such was the success of this new competition it drew another 12 teams into the social competitions on the same night and saw  spectators flock to Bell Park each week from all over Auckland to watch.
Amanda is also a volunteer on the Executive at the Howick Pakuranga Netball Centre and on the board at Counties Manukau Touch Association.
Amanda has been the driving force in rejuvenating the Howick Sports Awards and has run this on behalf of the Club for the last two years.
Lincoln McKenzie
We've already heard about Lincoln and his role as a volunteer for the Pakuranga Athletics club and their track and field programme.
As an Administrator, Lincoln is also heavily involved in the selection and management of the Counties-Manukau Inter-provincial teams.  He is a spokesman for the club (and athletes), travels to the events, grade manages whilst the teams are away and helps with trip logistics and management.  For the 2020 event to be held at King's College at Easter, Lincoln has chaired the Local Organising Committee.  This has been a huge task and has taken up many, many hours of Lincoln's time, particularly in these challenging times with Covid-19 playing havoc with sporting events.
WINNER of the Administrator of the Year – Amanda Dyason from Pakuranga United Rugby Club
Coach of the Year
Sander Waterland
2019 was the first year of Sander being Bucklands Beach Association FC's Director of Football.  As such he not only coached players but coached the coaches as well.  He coached the rep 13th grade boys team to Champions for 2019 in the top league and he took the team to Sydney to place second competing against and beating A-League club rep teams.
Shaun Clark
Shaun has been with the Howick Hornets club for 4 years and has achieved numerous accolades during his time. He has coached both Counties Manukau NZRL Mens and Womens Premiership teams.  2019 saw Shaun coach Howick Hornets Premier side to a first division premiership title as the SAS Fox Memorial Premiership Grand Final Winners against Mt Albert.  This included on the way, Shaun coaching the team to wins in the Sportsafe Nines, The Roope Rooster and the Rukatai Sheild. His determination and drive for success and clear communication style is witness to his on field success.  Adding to his previous National Coaching accolades, this year Shaun was named as the Coach for New Zealand Maori Residents side.
Monique Gapes
Monique is the head coach at Howick Rhythmics and is incredibly passionate about the sport of Rhythmic Gymnastics. She is always looking for ways to improve her club, to allow more gymnasts to take part in the sport and the club has  seen a larger retention of gymnasts since she ascended into the Head Coach position. She volunteers many hours to do administration duties as well as making up routines in order for her gymnasts to achieve the fantastic results they do. In last year's competition season, the Howick Rhythmics Gymnasts came home with various top finishes with the national event held in Christchurch bringing home 21 medals between eight gymnasts. Monique is also mentoring nine junior coaches who are working through various training programs in order to become qualified. Without Monique's dedication the club would be unable to run and the effort that she puts into creating a supportive and caring environment for her gymnasts is seen through the love that the girls have developed for the sport.
Mark Hodson
Mark is the Howick College Premier Mixed Touch Head coach, with the team being winners of the Auckland competition and 2nd at the Galaxy Tournament
The teaw were also New Zealand Secondary Schools Mixed Champions 2018 and 2019.
Mark has been named coach of the 2020 NZ U18 Mixed Touch team.
WINNER of the Coach of the Year – Monique Gapes – Howick Rhythmic Gymnastics Club
Nominees for Sportsman of the Year
Jethro Friend
Jethro has been with the Howick Hornets Premier side since 2013, celebrating his 100th Premier game for the club early on in the 2019 season.  Jethro kicked off a fantastic playing career to date with a number of outstanding achievements for the season.  Under his captaincy the Hornets went on to win, the Auckland rugby League Sportscafe Nines Tournament, the Roope Rooster interclub challenge, the 2019 Minor Premiership (The Rukatai Shield) and  The Fox Memorial First Division (Grand Final) .  Jethro was also named Man of the Match with 2 tries and 56 tackles.  The past Captain of the Auckland Premiers then went on to achieve accolades from the Howick Hornets as Player of the Year, then receiving the Auckland Rugby League Fox Memorial Player of the Year and being named in the Auckland Rugby League Team of the Year and capped off the season representing the New Zealand Maori Residents against a touring English Team.
TJ Faiane
In 2020 TJ Faiane took his game to the next level as he retained the captaincy of the Auckland Rugby side in the ITM cup whilst also becoming an integral part of the Blues side in Super Rugby (where he sometimes kept All Black Legend Ma'a Nonu out of the #12 position, not easy to do).
His Professional career comes on the back of an outstanding junior career where he represented NZ Secondary Schools in 2013 and NZ U20's in 2015. He must be getting really close to the elusive All Black jersey!
TJ would be the first to admit he is not the biggest player on the field but his amazing skill set and unequalled commitment is not bettered by many.
When not playing professionally TJ proudly represents this club all over the world when touring and if you ever see him on TV you will see him sporting his Orange and Green mouthguard. If he has the opportunity, he is the first to come back to the club.
Seth Gibson
Seth Gibson has been one of the most successful players within the Howick Softball Club over the last 12 months.  For a young man, he has achieved so much to date.
Selected in NZ Black Sox Training Squad and the NZ U23 Men's team to tour Canada in June 2020
Received NZ's Men's Emerging Player of the year – SNZ Award
Auckland Softball Association Award – Junior Male Sportsperson of the Year and MVP in the U23 Auckland Men's Representative Team
In the winter (our off season) Seth played in the Czech Republic where his team competed in the European Super Cup – He was 3rd player overall out of all 21 teams in Europe on the batting stats.
Seth is recognised as one of the best fielding 1st Basemen in the country and has also been consistent with the Bat throughout the last 12 months whether here or overseas.
Seth is an outstanding player of the Game and one that deserves recognition.
WINNER of the Sportsman of the Year – Seth Gibson Howick Softball
Nominees for Sportswoman of the Year Vivian Lu 
Vivian has an impressive list of achievements in the past 12 months:
In the Official New Zealand golf academy and NZ rep
Akl team member that won Toro playing number one.
1st in Auckland strokeplay, and2nd in New Zealand Strokeplay
3rd in New South Wales amateur
2nd pegasus open (Charles tour)
tied 3rd in the Asia pacific junior championship
International NZ Queen Sirikit team
Macleans college junior sportswoman of the year
Leading NZ player in Asia pacific women's amateur championships
WINNER of the Sportswoman of the Year – Vivian Lu
Nominee for Team of the Year
Howick Hornets Premiership Team
Howick Hornets Rugby League SAS Fox Memorial Premiership Winners 2019
An outstanding year for the Premiership team in 2019 after a couple of years just missing out and placing 3rd on the Premiership ladder.  Last year saw a strong Coaching team, backed by an equally strong and determined team. They started the year well, winning the Auckland Rugby League Sportsafe 9's at Hibiscus Coast, the Roope Rooster – an interclub challenge among the top Auckland division clubs, the 2019 Minor Premiership (Rukatai Sheild), winning the SAS Fox Memorial 1st Division final, and finalists for the Counties Manukau Sports 'Team of the Year'.  The Howick Hornets club are very proud of the Teams contribution to their sport and community and the role models these players are for the grassroots of our sport.
Macleans College Premier Golf
The Macleans college premier golf team went back to back in 2019 with another 1st place at the Secondary schools golf nationals.
They also won the Auckland college sport premier competition.
Auckland Ice Figure Skating –  Black Ice
Black Ice are a mixed age synchronized Ice Figure skating team.  They are 3x NZ National Champions and the current NZ national title holders.  Black Ice recently won gold at the Australian National Championships which has never been achieved by a NZ team before.  Black Ice aim to retain their NZ title for 2020 and to compete in Europe in early 2021 – fingers crossed.
Achievements 2019:
Winner Auckland Champs
Winner Glenburn Champs
Winner West Auckland Champs
Winner North Island Champs
Winner NZ National Champs
Winner Australian National Champs
Howick College Premier Mixed Touch
Winners of the Auckland competition
2nd at Galaxy Secondary Schools tournament
New Zealand Secondary Schools National Champions 2018 and 2019
New Zealand Secondary Schools National Champions 2019
WINNER of the Team of the Year – Black Ice, Auckland Ice Figure Skating Club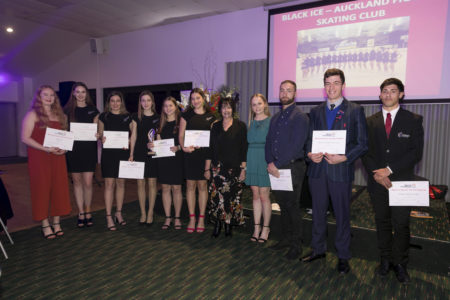 Nominations for Internationalist of the Year
James Wilson
James Wilson is an enthusiastic ambassador for Special Olympics and how it has changed his life from being water boy on the sideline through to representing NZ in powerlifting at the Special Olympics World Games 2019 in Abu Dhabi.  He not only won 4 silver medals but also gave speeches on behalf of the NZ delegation at the NZ Embassy welcome on arrival and again when they visited Amity International School.  He is a proud Athlete Leader, a dedicated sports person and a great example of how disability can be overcome and goals can be achieved.
Special Olympics plays an important part in James' life and James plays an important part in promoting Special Olympics both for New Zealand and his local Special Olympics Howick Pakuranga Club. His enthusiasm for Special Olympics led to James being selected to train and graduate as a Global Messenger for Special Olympics in 2017. In the lead up to the Special Olympics World Games, James gave numerous motivational speeches to raise funds for the Special Olympics team and to encourage other potential athletes to take part and follow his lead. James won a nutrition challenge held at CrossFit East Auckland and this led him to suggest a series of workshops held by his local club to encourage athletes to follow a nutritious diet, to stretch and warm up properly and to make friends.
Blake Hinsley & Nicholas Drummond
We've already heard about Blake and Nick's sailing achievements in the Junior team of the year category; to add to that, Blake & Nick Trained hard throughout the 2019 Sailing season & into winter in order to first win the NZ Nationals in the RS Feva in April and then go on to win the Silver Medal at the RS Feva Youth worlds in Follonica, Italy in July 2019.
Dalton Papalii
Dalton Papalii continued his outstanding form for both Auckland and The Blues in 2019 which culminated in him playing for the All Blacks again. Whilst disappointed in not making the Rugby World Cup Squad he continues to work hard to become an All Black again in 2020 – what a great game he had on Sat night!
Dalton's schedule of training and playing is very heavy but when asked he makes himself available to play for Pakuranga. In 2019 he played for Pakuranga against Auckland Rugby powerhouse Ponsonby. Having Dalton in the side gave the team such confidence that they inflicted on Ponsonby their only loss of the season.
Dalton also inspires our children when at the club, he's always available to do a presentation or take a "selfie "with any young fan which is a true measure of an outstanding young man.
Theo Quax
Theo has had a great season at Northern Arizona University, not just with his running, but also academically.  He has excelled on the track, being among the fastest middle distance runners at NCAA level, as his results demonstrate.  Theo also received an academic honour from his conference in their 2019 Spring All-Academic awards for his 4.00 Grade Point Average.  He is proudly flying the Howick flag in the United States and is an inspiration to many local athletes who now want to emulate his achievements.
Results Summary:
March 2019: Theo ran the 5000m at a US collegiate outdoor meet at Stanford.  He won his race with a time  0.2s off the NZ U20 5000m record.
April 2019: Theo ran in the top seeded race of the 1500m in a very prestigious outdoor meet in  California.  He finished 9th in 3:39.84, but broke the NZ U20 1500m record which had stood for 27 years.
15 Feb 2020: Theo ran his first sub 4-minute mile putting him and his late father Dick as the first NZ father-son sub 4 duo.  There is a world-wide 'club' and they are 12th in the world to have achieved this feat and are ranked 8th fastest on the list.
WINNER of the Internationalist of the Year – James Wilson, Special Olympics
Nominations for Club of the Year
Howick Hornets Rugby League
2019 – A very exciting year at the Howick Hornets Rugby League Club;  one they are all very proud to be part of.  The SAS Fox Memorial Premiership Winners, 2019 Minor Premiership Winners (The Rukatai Sheild), Auckland Referees Association Best and Fairest Club of the Year,  Auckland Rugby League Club of the Year, Auckland Rugby League Sportcafe Nines's Mens Premiership Winners, Finalists in the Counties Manukau Sports – Team of the Year – Mens Premiership.  The club has spent 3 years building the girls grades and 2019 saw the Under 16 Girls make a grand final – narrowly losing to Otahuhu. The club works hard to grow the sport within our community and continues to look forward to grassroots Rugby League being more recognised.
Howick Softball Club
The Howick Softball Club  is definitely making a difference in the Community and has done for many years.  The Club's membership is strong with a huge number of juniors.  The Club has shown many new initiatives over the years to ensure participation and opportunities are provided to all within our community.
The Club works with all primary and intermediate schools, and does a fantastic job running their inter school tournaments at Meadowlands Reserve.
This season, the Club sent representatives  to Waiheke Island to work with a club there on their Have A Go Day and during the season enabled them to play by supporting them with coaching and financially.
Their  Small Sox little teams,  2.5 years of age to 4 continues to thrive and to see these children start the season, shy and reserved to being confident by the end of the season and  learning the basic fundamentals is hugely rewarding.
The Club runs its own Winter Academy that has seen massive success  – with 3 young men being selected for Junior Black Sox the prior year, and then 2 more this season, 2 senior players making NZ Black Sox or Squads with some female players also making Auckland Representative teams.
The biggest reward  is seeing those that played as youngsters at Tee ball now bringing their own children to play.  This club is a true family club, that values it's members, the local community and everyone it works with.
Pakuranga United Rugby Club
Pakuranga United Rugby Club (PURC) is a club on the move. Rugby is and always will be why the club was founded but in today's marketplace clubs must diversify their entertainment offering to keep members engaged.
At PURC whilst they  maintain a solid membership of 640 juniors and 250 senior Rugby players, they have actively diversified the club by adding in Netball teams (over 250 players in 2019 up 15%) and creating a new Premier League Touch Competition which saw the Touch competition grow by over 20 teams in 2019  up 20%.
The club is progressive and is always looking at how they can do things better so in 2019 several new initiatives were trialled. These included:
Indoor Junior Netball for 8 & 9 year olds
Creating a Premier Auckland wide Touch competition
Running the World Secondary School's 7 Rugby Competition (with live Sky coverage over two days).
On top of all this the club allows all local schools and community groups to use these facilities for training, playing and awards ceremonies.
Bucklands Beach Tennis Club
Bucklands Beach Tennis Club is a strong community tennis club. Success in 2019 included entry in Men's and  Women's Caro Bowl teams for the first time and achieving Auckland Tennis'  Club of the Year. The club  had strong representation at all levels of interclub, junior and senior, plus junior entries in regional and national competitions. The club caters for all ages and levels from beginner courses through to an excellent junior development programme. An active committee ensures excellent facilities and active participation by members with club days/nights, men's nights, veterans, midweek ladies, cardio tennis aswell as social events, working bees, tennis gear donations to other clubs, all well supported by our loyal members.
Achievements – which are too many to list, include
Tennis Auckland Club of the Year, Senior Interclub of the Year and Junior Club of the Year
Nominated for Tennis New Zealand Club of the Year
Runners up Caro Bowl Women's Competition
Winners Caro Bowl Reserve Men
Junior Reps include Jack Chapman and Olivia Brown and Auckland Tennis Gold Service Award for 20 year plus went to Julia Sim.
Cockle Bay Tennis
Junior National Achievements
 18 children participated in the 2019/2020 New Zealand Age Group Tennis Championships.
Cockle Bay Junior members had great results in National Tournaments.
DANIEL PERSSON – Won 16s Nationals as well as 16's Masters
KEVIN FU – Runner up at 16s Nationals
ALEX MIRKOV – Won 14s Masters and Runner Up at 14s National events.
Regional Member Achievements
Cockle Bay tennis Won the elite Auckland Tennis 2019 Caro Bowl competition for the first time. This is their 9th consecutive year participating in this competition that attracts draws in top players from NZ and Australia.
Won the elite Auckland Tennis 2019 Junior Caro Bowl Boys and Junior Caro Reserve Boys titles.
Had 16 children participate in the age group 2019/20 Auckland Championships.
Have 26 junior, 13 senior and 8 mid-week ladies teams participating in the Auckland Tennis summer and winter interclub competitions.
Won 12 Junior Tennis Auckland 2019 Interclub Competitions.
Won the following 2 x 2019 Tennis Auckland regional awards:
Club Administration
Membership, Marketing & Promotion
WINNER of the Club of the Year Howick Hornets Rugby League Club
Nominations for Service to Sport – awarded to each of these individuals  
Paul McKenzie
Paul first coached his six-year-old son at Bucklands Beach AFC 22 years ago and has been involved with the club every year since.  He's Coached multiple youth championship teams and for the past 4 years has been the manager of the successful men's first team.   He's a Life Member and current Executive Member with responsibility as Senior Convenor.
Joanna Richards
Special Olympics Howick Pakuranga swimming coach at weekly trainings for 25 years.
Special Olympics Howick Pakuranga Team Coach Trans Tasman  Hamilton 2016
Special Olympics Howick Pakuranga Team Coach NZ National Summer Games Wellington 2017
A loyal coach who strives for the best from athletes.  She collaborates with other coaches to develop goals so athletes are always challenging themselves.
Brian Wilsher
Brian's career as a sports administrator has been outstanding for well over 20 years. Brian joined Pakuranga United Rugby Club when his son started playing at the club. He soon became a Coach before moving into the management area. He was quickly identified by the Committee of the day as someone who had a great knowledge of both Rugby and running sport and was drafted into the Committee. As his son moved through the age grades at the club Brian's involvement also started to ramp up, firstly onto the Senior Rugby Committee and then the club's Board where he stayed for over 10 years.
Whilst on the Senior Rugby Committee Brian took on the role of the club's Delegate to the Auckland Rugby Union Council of Delegates, a position he held for over 10 years eventually becoming the Chair of this very important Council. From there Brian was elected onto the Board of Auckland Rugby whilst at the same time sitting on the Board of Super Rugby side the Blues -a role he continues with.
Brian's involvement in the sport he loves has been one of many hours of voluntary giving. The Club has awarded Brian many awards over the years and the Auckland Rugby Union also honoured Brian presenting him with their highest award as well.
Sandra Paton
Sandra took on the role as  club president at the Howick Rhythmics Gymnastics Club a few years back and continues to give back to the club and the sport in anyway that she can. For over 20 years she has been involved in gymnastics through her daughters growing up in both artistic and rhythmic gymnastics. She has chaperoned New Zealand representative teams to Australia for various competitions, as well as the NZ Rhythmic Gymnastics Group to the World Championships in 2018. She volunteers at national comps as a scorer and she has served on numerous club committees for the sport intent on helping it to gain recognition. Sandra will help out in anyway that she can to serve the  club – she is an amazing woman.
Carollynn Frew
Netball Bench Official
Since she started official scoring and timekeeping for Howick Pakuranga Netball in 1998, Sandra has been:
Appointed to World Netball Champs in Christchurch and Auckland and the  World Youth Champs in Wales.
She has been awarded Counties Manukau Bench Official of the Year
along with an Award for 20 Years' Service.
She has regularly been appointed to National Tournaments and to International Tests and is one of the most experienced bench officials in NZ. In recent years she has been a senior member of the Counties Manukau group assisting with the training of Cadets (those new to the role) and is highly respected by all.
Sue Miller
NETBALL
Sue has a massive list of achievements since she first coached Macleans college netball teams in 1980.
She's been on the Executive team of Howick Pakuranga Netball and a rep team Manager and in the group that started official scoring and timekeeping.
She's also been part of the Executive of Manukau Netball and  Managed Netball NZ Invitation teams
Sue  has been the minutes Secretary, Board member and Chair OF Counties Manukau netball.
She was the Co-ordinator of bench officials throughout Counties Manukau for 20 years.
Sue has been awarded or been a finalist in a number of service awards over the years, both locally and nationally and given tirelessly to netball for 40 years.
Danna Mandry
Danna Mandry or better known as Mum has been a part of Fencibles United AFC for more than 20 years and much to the club's dismay retired at the end of the 2019 football season.  Danna has been the Secretary of the club for all of this time.  Danna is one of those amazing people that has a wonderful sporty family and manages to juggle everything along with being 100% dedicated to her role of not only Secretary but Mum to all the players.  Her role as face of the club has seen her go through so many changes but she is the one constant; the person you can always rely on,  the person that is always there helping run everything or making sure everyone is doing as they  should.  Fencibles could not have run without her and her heart and love for the whole club.
Dev Senthiya
Since 1998, Dev has been pro-actively involved in the sport of Badminton at various clubs at all levels serving all ages – and he is still playing at Masters level.
Dev also has massive list of achievements:
World Masters Gold medalist with numerous other medals won both internationally and nationally.
Auckland Representative player for 15 years plus, along with coaching and developing players.
Pioneered and developed 15 clubs in East Auckland including the largest badminton club in the country at East Tamaki.
Organized and managed numerous badminton tournaments in the last 20 years.
Dev has also been a President, Head Coach, Club Captain, Vice President, Chair and Trustee to numerous Sports and Badminton clubs.