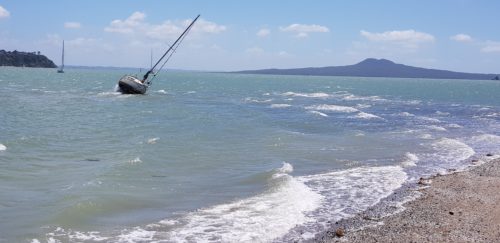 Two boats are confirmed as having slipped their moorings overnight last Thursday following extremely high winds.
This vessel above was captured on camera by the Times' Nick Krause on Friday on the incoming tide at the northern end of Bucklands Beach on Tamaki Estuary.
Auckland Transport told the Times: "We are not aware of any other vessels washing ashore last night (Thursday, November 1) apart from the two in the Tamaki Estuary.
"It is the responsibility of the owners to re-float their vessels. In this instance, one owner was overseas and we couldn't make contact with (the) owner of another boat.
"The Harbourmaster has re-floated both vessels and put them on moorings. They were relatively unscathed. The Harbourmaster will be invoicing the owners."