Police are embracing love and peace.
Counties Manukau District commander superintendent Jill Rogers spoke at the Embracing Love and Peace concert at the Fo Guang Shan Buddhist Temple, event on Sunday afternoon.
"We have seen the darkest event and it is important be reminded of love and peace, that's why we have to come here to the Fo Guang Shan Buddhist Temple to understand love and peace," she said.
"The police have always had a very good partnership and relationship with the Fo Guang Shan Temple and I am not sure if  it was a slip of the tongue when Police Deputy Commissioner Wallace Haumaha mentioned 'Love and Police' in his opening address instead of 'Love and Peace', this temple certainly brings peace and calm to us."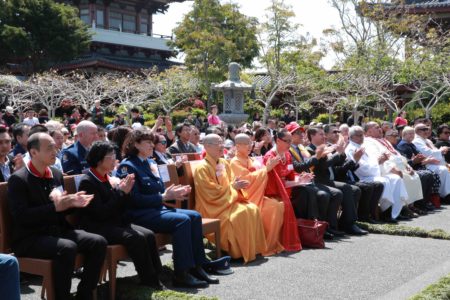 A host of performances by different cultural groups including the New Zealand Sri Lankan Foundation, Samoan Parish Youth group, Tongan choir group and Mission Heights Junior College performed various dances.
Minister of Ethnic Affairs Jenny Salesa light-heartedly comment that while she could see a lot of Tongans in the background, she knew they like to stay away from the sun.
Principal of Mission Heights Junior College, Ian Morrison spoke about the close relationship the school shares with the Buddhist temple that teaches children about building bridges with love, compassion and peace.