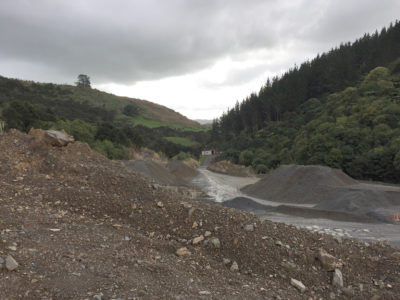 Fulton Hogan, Clevedon Protection Society, Clevedon Cares and Clevedon Conversations are reported to be pleased that an agreement has been reached regarding Fulton Hogan's resource consent application to expand operations at Clevedon Quarry.
The agreement is confidential.
Fulton Hogan said in a media release last Friday that there was one remaining "discreet issue" between Auckland Transport and Fulton Hogan that will be subject to on-going discussion.
"As occurs with any mediation, all parties have compromised in order to reach this agreement," the civil engineering company said.
"This was achieved in a positive and professional manner, with an outcome that recognises the needs of both the community and Fulton Hogan's commercial operation.
"Both parties would like to recognise and commend the mediation process, facilitated by an Environment Court Commissioner, which enabled a forum by which frank and productive conversations could be held.
Fulton Hogan said it looked forward to continuing its relationship and involvement in the Clevedon community over the coming years, and to providing a much-needed resource for Auckland's continued development and maintenance of infrastructure.
The Clevedon Protection Society was approached for comment.
The Times also asked about the nature of the agreement. Fulton Hogan replied: "What has been agreed are the conditions, which are being submitted as part of the court process. As with any court documents, these remain confidential at present.
The long-awaited hearing began in December.
The hearing was to determine whether resource consent could be granted to increase production from the McNicol Road quarry from 200,000 tonnes per annum to 3 million tonnes per annum.
Residents have been fighting the move for months, citing concerns over heavy truck and trailer movements which they say are projected to increase from 100 per day, to 1306 per day.
Locals claim the roads are unsuitable to handle such heavy truck traffic and want the number of trucks on the roads to be reduced.
The Clevedon Protection Society said the quarry expansion did not consider the housing intensification in Clevedon village.
"The effects are not just in Clevedon but also closely linked to almost identical issues which have arisen at the Brookby Quarry and (nearby) Pascoes Landfill.
"Traffic safety on the road network is a major concern. The roads are simply not up to the task."
The Clevedon Protection Society's key concerns with the Fulton Hogan proposal:
Daily truck movement increasing from an average 100 to 1306 per day (or up to 90 per hour) – a 1300 per cent increase
Annual tonnage increase from 201,152 to 3,000,000 per year
Operating hours increase from 10 to 15 hours Monday to Saturday (50 per cent increase), with up to 24/7 operations as required including four truck movements per hour over night
Removal of up to 80,000,000 tonnes of aggregate over the next 35 years
The Clevedon Protection Society says if the proposal is consented by Auckland Council, it will destroy the unique Clevedon amenity and rural lifestyle that so many people enjoy. They say that though they are not seeking to close the quarry but wanted Fulton Hogan to urgently reconsider its application.
They fear that the community and environment cannot sustain what is being proposed and Fulton Hogan's proposal must be substantially reduced so as not to create irreversible environmental and social damage.
They want Fulton Hogan to explore all possible alternative transport routes and options.
As one of the first quarry applications under the new Unitary Plan, the protection society also urged council to "very carefully consider this application and recognise the deep opposition being shown by the residents of Clevedon".