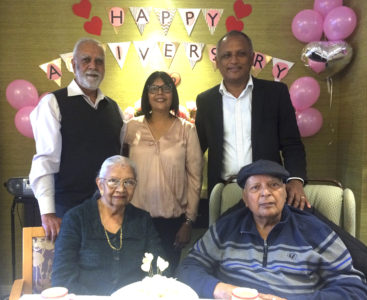 It was 1946 in Suva, Fiji, and Shiv Prasad had his eye on Yashwant Chaudhary.
At least, that's how she likes to start the story.
Last week, the loved-up couple celebrated their 70th wedding anniversary at Bruce McLaren Retirement Village – a milestone Yashwant never imagined they would reach together.
"We've been really lucky so far [in health and life]. I never thought we would make it to this."
They were only 21 when they married in an elaborate, traditional Hindu wedding hosted at Yashwant's parents' residence in Nausori and both pursued careers in the education sector.
Yashwant graduated as a primary school teacher from Fiji Teachers College in 1946 and devoted herself to this profession for 36 years.
In her teaching career, she was a pioneer at promoting special needs education and was proactive in promoting equal opportunities for women.
Shiv attended Auckland Teachers College in the mid 1940s and went on to serve in the Fiji Ministry of Education for 41 years, taking up various roles including head teacher, senior lecturer, education officer and chief education officer.
Seventy years down the track, the couple have two sons and a daughter, five grandchildren and three great-grandchildren – and they've learnt a thing or two about what makes for a good marriage.
"Give and take… and be happy. The important thing is happiness," said Yashwant.
"You've got to listen to each other, too."
Since immigrating to New Zealand in 1987, the couple have resided in Pakuranga, but sold their beloved home in June 2015 due to Shiv's ill health and moved into Bruce McLaren Retirement Village, where they are an inspiration to the staff and community.
More than 30 people attended a celebratory afternoon tea at the village held in honour of them on May 10, including residents, staff and family.
"You can see there's a 'forever' [with them]," said Lonita, a staff member at Bruce McLaren. "It's not just something in the books."
"It's very special to have a couple like them here," said another.
Daughter Yashwini Krishan said it's been lovely to watch her parents fully embrace their new environment at Bruce McLaren, and credited the "incredible" staff team for the care they have provided since then, particularly village manager Warren Herring and clinical manager Nicky Rijns.
She told the Times her parents' example of marriage and commitment has taught her well.
"Mum and dad's long journey has taught us to be honest in a relationship, be tolerant and to be appreciative of each other's qualities.
"They have had a wonderful marriage as they have always been the best of friends, have shared interests and thoroughly enjoy each other's company."