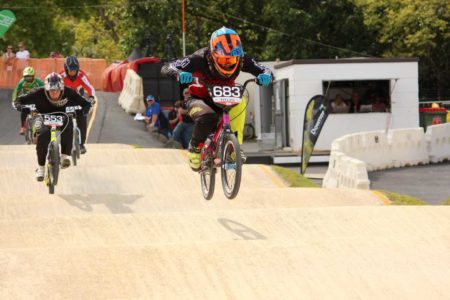 Mountain Raiders BMX Club ran a hugely successful event over Labour Weekend. Friday started with set up and track hand over to BMXNZ officials.
Rider set up and practice started at 1pm. Saturday saw the opening ceremony with speeches from the Howick local board which backs the event along with NZCT, Lion Foundation, and local business.
The North Island Titles is an international event which hosts a test team from Australia The teams are called the Mighty 11s as they are from the 11-year-old age group. The four teams race for a trophy and bragging rights. There is both a boys and girls team from both countries. This is an awesome opportunity for young kids to represent their country at a young age.
The competition had 600 riders and around 2500 spectators on each of the days. The closure of Bells Road was the making of the event as it gave everyone peace of mind and created a safe environment for the kids. The racing age groups range from the 5 and under to the 50+ age group. These are all challenge classes (amateur), topped off with the four Championship classes – Junior Elite Women, Junior Elite Men, Elite women and Elite Men. These categories are the best in the country and showcase the young men and women who are aspiring to a career in cycling. The classes were amalgamated to race as Elite Women and Elite Men in order to create closer racing. On completion trophies were awarded in each age group.
Mountain Raiders had an awesome 33 riders make it into the finals on Sunday in the Challenge class and three mountain raiders into the Men's Elite final. All three are Junior Elite riders but held their own against the Elite men finishing second, fourth and fifth in the amalgamated class, which put all three on the podium for the Junior Elite men – a massive achievement for themselves and the club.
"The Mountain Raiders' club season has only just got underway so if anyone would like to come down and give it a go we would love to see them," said Mountain Raiders' Kevin Jago.