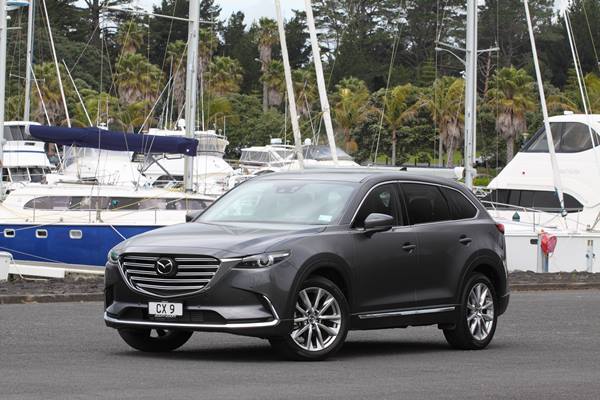 There comes a time in life when candlelit dinners make way for drive-through burgers, and instead of a romantic DVD and a bottle of wine when you get home it's a Barney the purple dinosaur video with the kids.
The contents of the garage change too. That sporty MX-5 convertible is history, in its place sits that universal symbol for middle age and responsibility: a MPV, or in modern lingo, a seven-seat SUV.
"You know what honey? Let's go for a fun spin along a twisty coast road in the people mover," said nobody ever.
Well, newsflash people: practical doesn't have to be boring. Don't believe me? Well, go take the latest, all-new Mazda CX-9 for a test drive and you'll soon see what I mean.
CX-9 handles beautifully, and the electric power steering is light but has a good level of feel.
The GSX model is offered with either two-or four-wheel drive ($52,995 and $55,495 respectively), while the $62,995 Limited tested here is all wheel drive only.
The previous model had a V6 under the hood whereas this one, which utilises Mazda's SkyActiv technology, has a 2.5-litre turbocharged four-cylinder.
It's a new engine, and one that'll find its way into other models; think performance orientated Mazda3 and Mazda6.
In CX-9, the turbo four is set up for real world driving, so rather than having heaps of power high up in the rev range it delivers a useful 420Nm of torque at 2000rpm.
This means excellent throttle response and quick overtaking (particularly with the six-speed auto in Sport mode), or relaxed effortless cruising.
CX-9 isn't boring to look at, either. Somehow Mazda has managed to make sensible look exciting in a classy and understated way.
Sure, that big trademark Mazda grille is in your face, but that's an exception; the rest of the styling is a case study in 'less is more'.
Same goes for the interior. Fit and finish is superb, and the choice of materials is what you'd expect from a high-end European sedan, not a seven-seat crossover.
The middle row of leather clad seats is roomy enough for three adults, whereas as the third row is the kids' domain.
There are multiple ways to fold and slide the back two rows, so if mum and dad want to escape for a weekend there's enough room to take those neglected mountain bikes off the garage wall and stash them in the CX-9's load area.
The Limited's specification is impressive.
Radar cruise control with stop and go function, Smart Brake Support (SBS), lane departure warning and Lane-Keep Assist System (LAS), Forward Obstruction Warning (FOW) and a heads-up windscreen display add safety to practicability.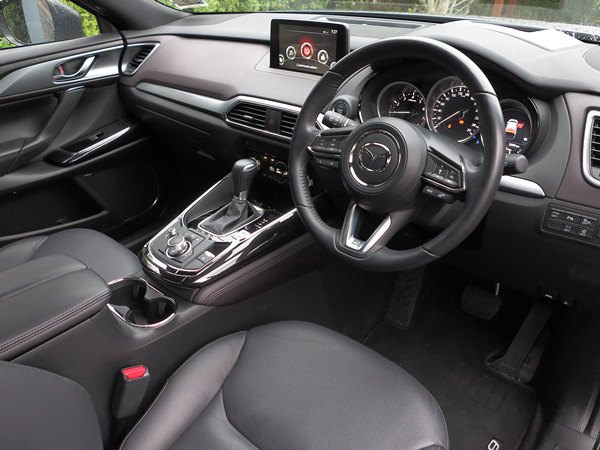 A sunroof, tinted windows and a power tailgate are also standard fare.
It's quiet too, thanks to additional sound deadening and a thicker floor pan compared to the old CX-9.
A lack of mechanical and road noise means that you'll have to crank up the Limited's awesome premium 294watt, 12-speaker sound system to drown out the kids asking 'are we there yet?'
Little do they know, the CX-9 is so enjoyable to drive and comfortable that you're taking the long way home.
 By Alistair Davidson