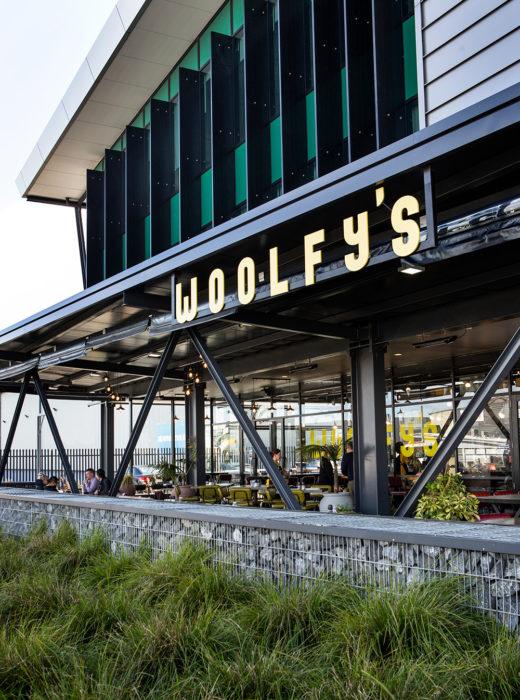 There is a sense of great excitement and expectation at Woolfy's Cafe and Restaurant that is getting the finishing touches to the newly expanded, sun-drenched outdoor seating area – that is perfect for summer dining.
The spacious indoor-outdoor flow at the popular cafe can now accommodate more than 120 diners.
The palpable buzz at Woolfy's indicates that the staff is fast gearing up for the festive season.
We hear that Santa is delivering a huge container of festive decor to bring Christmas to Highbrook. Picture a big decked-out Christmas tree, with top-notch holiday season decorations; a burst of tinsel and fairy lights that will be lit up by next week. Also, creating the magical feel will be Christmas trees lining the entire length of the spacious cafe.
Woolfy's on 5 Cryers Rd, Highbrook that has you covered from sunrise to sunset will now (Friday onwards) be open till late on Thursday, Friday and Saturday nights.
The new owner Rakesh Rajpal has introduced a range of coveted cocktails, celebratory champagne, best wines and beer to the mark special occasions and a delightful dining experience at the restaurant.
Rakesh has worked with accomplished Woolfy's chef Peter Cardwell to create a menu which is a unique blend of New Zealand produce with European and Asian influence.
From traditional to contemporary, hearty meals with a twist is what they do best.
The chef will also be introducing a range of ingeniously created tapas plates for those who enjoy casual dining with a bottle of wine or single malt. It's just the place for after-hour's hangout.
As for the mains you can work your way through …. from a selection of St Louisville Muddy Ribs — juicy pork short ribs served with apple-kim slaw and accompanied by paratha (Indian flatbread); With flavours from around the world you could opt for the traditional Paella — saffron rice with sofrito, chicken, seafood, pork and peas; or go for Fisherman's King Salmon. teriyaki tofu, or gnocchi di zucca.
It effectively means that if you like the idea of Tuscany or Spain for Christmas but can't afford the airfare, Woolfy's is the place to be.
Apart from the well-presented day menu that includes a selection from the big keto, the quickie burger as well as Szechuan chilli scrambled eggs and lot more, the trendy cafe also offers appetising cabinet food that tastes as good as it looks.
The fun and cool cafe/restaurant is easy on your conscience as they serve tasty, locally sourced food, most of which is free range and organic. The Kokako organic coffee they serve has a big fan following on Instagram.
There is also a great range of juices, smoothies and fizzies for non-coffee drinkers out there.
Centrally located in a busy business area, the industrial prescient of Highbrook, Woolfy's is a hub for those who want to have a meeting in a more relaxed atmosphere with delicious food to go. It's just the place you would want to catch-up with your colleagues, family and friends.
The cafe/restaurant that has been named after Sir Woolf Fisher co-founder of Fisher & Paykel, the major appliance manufacturing company, (who developed the area) has been known for its creativity, consistency, customer experience and high quality of food—since the day it opened its doors.
Woolfy's is the place to be for those who are planning their Christmas office party, family get-togethers and special occasions, where you get to just sit back, relax, while someone serves you delectable food.
A true eastern gem, walk into the shining star of Highbrook and bring in the Season of Merry.
Open weekdays from 6.45am to 3.30pm and on weekends from 8am to 3.30pm, Woolfy's will also be open on Thursday, Friday and Saturday evening from 5.30pm onwards till late.
Check them out on Instagram and Facebook.
Woolfy's
5 Cryers Rd,
Highbrook
Ph: 280 1585