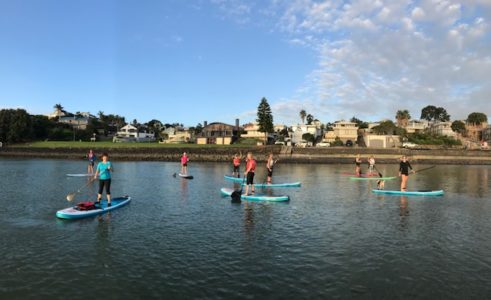 Cancer survivors are being encouraged to pick up a paddle and get out on the water in a new initiative.
PaddleOn, a four week stand up paddle-boarding (SUP) programme, will launch at Bucklands Beach this week with the aim of helping cancer survivors get back on track.
The programme, delivered by certified PINC & STEEL physiotherapist Catherine Noventa, works to improve confidence, balance, strength, posture, flexibility and fitness in those who have completed cancer treatment.
"There's so much research out there now about cancer survivorship and people surviving longer and having fewer recurrences if they exercise," Noventa says.
"PaddleOn is a great way for cancer survivors to ease back into exercise and gain all the benefits of learning something new, having a laugh and meeting others who have experienced something similar to them."
Noventa, from Howick House Physio, has been working with cancer patients for 25 years and says often survivors suffer from ongoing physical and psychological problems after treatment.
"There is this tendency among some survivors to believe that if they are in remission that they are really lucky and they should just get on with it and not complain," she says.
"But often they suffer for years following their treatment with serious fatigue, muscle problems and painful scarring just a small number of challenges they face."
She's spent the past two years rallying to get PaddleOn offered in east Auckland and hopes it will encourage cancer survivors to reach out and take advantage of rehabilitation available to them.
"It's about survivorship, and not just about surviving, but about thriving after cancer."
Noventa will be taking the class alongside certified SUP instructor Julie O'Meagher.
"The PaddleOn programme teaches participants all the components of stand up paddle boarding in an environment that is safe and fun, with a small group of likeminded individuals," O'Meagher says.
"I want to see more people learning about the benefits of exercise for cancer survivors and more people embracing the opportunities to improve their quality of life after cancer."
The programme is available anyone who has undergone cancer treatment including surgery, chemotherapy and or radiotherapy in the last six years.
Sessions are subsidised by PINC & STEEL Cancer Rehabilitation Trust and cost $40 for eight sessions.
Participants must undergo a screening process prior to beginning the course to ensure they have the required fitness level.
To register go to www.pincandsteel.com.