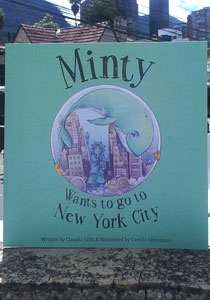 A children's book printed locally in Pakuranga has been featured in the Australasian National Geographic Kids magazine, distributed throughout primary schools in New York and photographed in Bogota, Colombia.
Minty wants to go to New York City tells the story of Minty the Whale, who dreams of travelling from New Zealand to the Big Apple.
"Lots of publishers [we approached] wanted to change the story, but we really wanted to keep the original concept of the book alive, so we decided to create our own publishing company, and find a way to print it locally," said Remuera author Claudia Gibb.
It's a story about adventure, kindness and following your dreams, and Ms Gibb said she was overjoyed when Pakuranga-based Bookprinting.co.nz manager Chris Else jumped on board with the project.
"Chris was a legend," Ms Gibb said. "He understood where we were coming from, we could trust him and he didn't try to change our idea – he just got on board and supported us."
Meeting her book printers face-to-face was the best thing about choosing a local company, she said, after first corresponding with Mr Else by email, then visiting the office located on Aviemore Drive.
Around seventeen years ago, Mr Else's father Dave opened the printing business on Cascades Road.
Since then the business has gone from strength to strength, said Mr Else, printing books that have been internationally exported to places like Russia, America and Australia.
"We've priced our books at a point where it's competitive, so it's becoming cheaper to print here [in New Zealand] with exchange rates," he said.
"But it's being local and being part of the East Auckland community that we love most about working here."
Created in collaboration with 26-year-old freelance illustrator Camila Abondano, who travelled from Colombia to intern at Ms Gibb's mother's art studio, the book took two years to produce and was mostly done by correspondence.
After being awarded a university scholarship fresh out of high school, Ms Gibb moved to New York, gained a business degree at Keuka College, and transferred to work in Brooklyn, before returning to New Zealand for an eye surgery.
The 23-year-old said she knew since she was seven that she wanted to live in New York, and is now determined to use her skills to show children it's possible to achieve their big dreams.
"We had no idea what it was like to put out a book [when we started]," she says, "but we wanted to do something with our degrees, so we put together our skills, and look at where it is now.
"If I could give any advice, it would be this: Always stay kind, and stay true to who you are. Be willing to listen to the people around you… but go after what you want. If you want it, you've got to just go for it."