A change of seasons calls for a new makeover. It's time to cut, colour, pamper and indulge with warmer, natural and softer colours.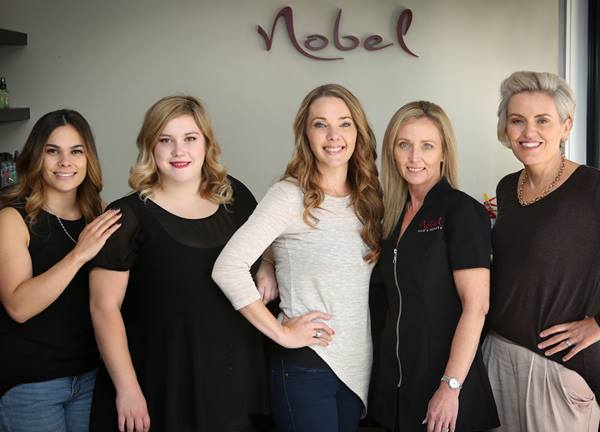 Working their way to make the world a more beautiful place, one hairdo and beauty makeover at a time  Nobel Hair & Beauty overlooking the stunning Pine Harbour Marina remains a coveted destination amongst Pohutukawa Coast residents in need of a new hair style or a makeover.
Owned by Beachlands local Shona Beckham, and managed by Vanessa Nel, the salon prides itself on making your visit a special one.
From a relaxing head massage to an outstanding service coupled with an innate passion for hair dressing, they ensure that every person who walks into Nobel Hair & Beauty looks
and feels beautiful. Nobel Hair & Beauty specialises in Balayage/Ombre for that low maintenance hairstyle that still looks stunning on all hair types all year round.
Stocking all the best products including the popular Redken's newest Diamond Oil Glow Dry, gloss shampoo and detangling conditioner— the new secret to light weight shine and enhanced blow dry- Nobel Hair & Beauty also stocks some top-of-the-line skincare
products to better equip their clients.
Highly recommended is Environ Youth EssentiA – The Future of youthfulness that gives your skin what is deserves by pushing the boundaries of time with its powerful combination.
The qualified skincare professionals at Nobel Hair and Beauty, Maria Corboy and Angela Gray are excited to stock Curtis Collection by Victoria, mineral makeup that brings your skin tone, eye colour and hair to life. Be sure to take advantage of all the beauty treatments they have to offer including eyebrows styling, waxing, manicures and pedicures and customised facial treatments.
Open late nights Tuesday and Thursday, it's easy for time-poor professionals to pop in after work for their beauty fix.
Liana De Waal, the newest addition to the team offers a special 20 per cent discount
for any hairdressing service.
Also, if you spend $150 or more, for a treatment you can get a super $30 off voucher for your next treatment— it covers both hair and beauty.
This winter warmer offer is valid only till July 8, 2017. Book in quick and have that special
glow this winter.
Sponsored by Nobel Hair & Beauty,
Pine Harbour Marina
190 Jack Lachlan Drive
Beachlands.
Ph 536 5805