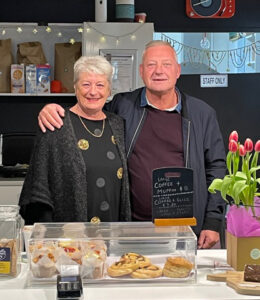 Moore Coffee has two distinct features that are immediately noticeable to new guests: the delicious scent of coffee beans, and the personable nature of the owners and staff.
John and Sarah have recently taken over the business from Coffix.
"But we're still using the same beans!" Sarah says.
John was in construction and Sarah was in the pharmaceutical industry, and now the life-long Howick locals have opened their doors to serving the community with coffee and food, a friendly smile and an easy-going nature.
This locally owned and operated cosy shop has a great selection of your favourite coffee available, including speciality (different syrups) drinks, iced coffee, iced frappuccino and iced chocolate.
Coffee enthusiasts can have their pick of milk – from almond to coconut to oat.
They also have a frappe and smoothie menu.
Along with the wonderful assortment of beverages, there are offerings of yummy treats.
Muffin and cake slices can be enjoyed with a warm drink.
"We're introducing hot food soon," John says.
And there will be ice cream to look forward to in the summer.
Moore Coffee is open from 6.30 am to 3pm Monday-Fridays, and 6:30 am to 2pm on Saturdays.
"We want to welcome all pre-existing and future customers," John says.
"Come try our great coffee with great value."