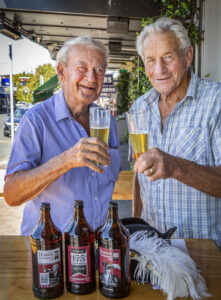 Howick's Town Crier and former mayor have joined forces to create a special new beer for the region's milestone anniversary.
Morrin Cooper, a former Howick Borough Mayor, approached a local brewer with the idea of making a blend of craft beer specially brewed for Howick's 175th anniversary which falls this year.
With the aid of the Town Crier and former Howick Local Board member Jim Donald, the two have officially declared the craft beer, labelled 'Howick Centennial Ale', fit for consumption.
Cooper told the Times that, during a centenary, there should be some happy libation to suit the occasion.
"It's a bit stronger than a lager," Donald says. "You can consume a bottle quite easily!"
The ale's label has a picture of Cooper and Donald on each side. Donald is dressed as the Town Crier, and Cooper is seen blowing a trumpet. A warning on the 800ml (three servings) bottle states that it is not 'safest to drink when shooting, getting pregnant or being pregnant'.
"It's been approved by the Liquor Licensing Society," Cooper says.
'Howick Centennial Ale' is about celebrating Howick's history and the happiness that came and chose to live in the community, they say.
Donald has lived in Howick for 46 years, and Cooper for more than 70.
Donald, Cooper and Howick historian Alan La Roche have formed a trust that oversees the 'shenanigans' of the 175th celebrations.
The ale is available for purchase at New World Howick and Liquorland in Howick.