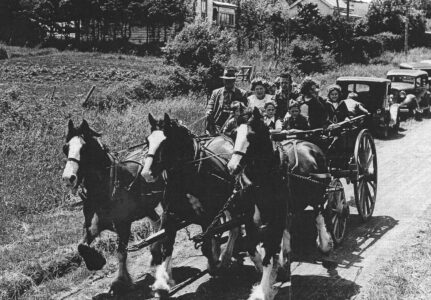 As Howick and districts count down to the 175th anniversary next year, the Times continues its series by Alan La Roche giving readers a glimpse of life as it used to be. The countdown began at the 170th in 2017
The Royal New Zealand Fencible Corps arrived in Howick on November 15, 1847.
1847
A welcome at Howick Beach on November 15th with Tara Te Irirangi and Wiremu Te Wheoro after a 90-day non-stop voyage from Britain. This followed a gathering on October 27, 1847 at St John's College, Kohimarama, before the Fencibles were transhipped to Howick.
1867
A 20th reunion of Howick Fencible families was held in November 1867 organised by Fencible James White, one of the first arrivals.
1897
A reunion, 50 years after arrival, was held in 1897 for about 1000 people, with games, a dinner and a ball organised by William White (son of James White). Special articles were published in the NZ Herald.
1927
Howick Borough Council held a "Pioneer Day" and celebrated the Fencible landing 80 years ago.
1947
Howick Centennial. November 1947, after 100 years. Organised by Howick Town Board with a week of many festivities including re-enactment of the Fencible landing and progress since. A book was published by the Howick Centennial Association.
1962
On November 14, 1962, 115 years after arrival. Howick Business Association had a re-enactment of the landing using Jimmy Rutherford's launch and borrowed whalers from the RNZ Navy. Old Settlers Dinner arranged by Howick Lions Club in Pakuranga College Hall and a Gala Day at Howick Domain. Organised by Shirley Lewis, secretary of the Howick Business Association and Russ Rice of Howick RSA.
1965
In November, a re-enactment by Howick RSA and Howick Little Theatre volunteers in hired costumes from Auckland Police. Filmed by TVNZ, narrated by Shirley Maddocks [copied by H&DH Soc]. A gala Day at Howick Domain followed.
1972
In November 1972, 125 years after the arrival of Fencibles at Howick Beach. It was commemorated with a special service at Star of the Sea Catholic Church and function in the Church Hall, the opening of Howick Telephone Exchange at Howick RSA, The Howick Historical Society buildings in the Garden of Memories were open and the Howick and Pakuranga Times printed special commemorative newspapers. Shamrock Cottage Café open, Howick Operatic Society performance at Pakuranga College Hall.
1987
Reunion of Fencible family descendants, 140 years after arrival, held at the Howick Historical Village organised by Shirley Kendall of the Fencible Families Association and Howick & Districts Historical Society Inc who printed a special brochure for the occasion.
1997
150th "Re-enactment" by Howick Historical Village volunteers at Cockle Bay, November 1997. A Howick and Districts 150 Trust was formed. A plaque was erected at Howick Beach recognising the Fencible landing, unveiled by Mayor of Manukau City Sir Barry Curtis. A service of Thanksgiving was held at Star of the Sea Catholic Church. Dinner at Waipuna Hotel. Special Howick greetings cards were printed from Howick Art Group artists.
2022
A 175th commemoration of the Fencible immigrant's arrival at Waipaparoa-Howick Beach in November 2022 with many community events.
Alan La Roche
Howick Historian
alanlaroche@xtra.co.nz