Harris Road-based steel Company out to better last year's massive fundraising achievement
Local company United Steel and its parent group United Industries (UIL) are once again about to 'Brave the Shave'.
After a hugely successful workplace fundraiser last year when more than $35,000 was raised for the Cancer Society, group health & safety manager Ben Hammond, recently put a request out to the group asking staff to again get involved in the initiative.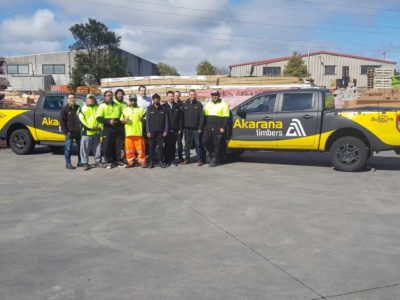 On Daffodil Day (August 30), a team from United Steel will step up and have their heads shaved. The first people to sign up were staff members Jane and Graham.
Jane's motivation for getting involved was to encourage awareness, which she says "is so important", and cited the example of her family member; "my sister in law had a double mastectomy and she's been told that she's now cancer-free – She is so, so strong".                       Last year's participants. Photo supplied 
Graham said, "There have been a few people in my family who have been through Cancer; my aunty, my grandfather. Some have beat it; some have passed away from it. My grandfather kept quiet when he went through his battle".
Ben reiterated, "I think one of the big reasons why this campaign is so important is because early diagnosis matters. The sooner you get to the doctor, the better your chances are at beating cancer are. It's a very cool fundraiser, but also this is about encouraging people to get the Doctor as soon as possible ".
If you or your company would like to get involved in the project this coming Daffodil Day, visit bravetheshave.everydayhero.com