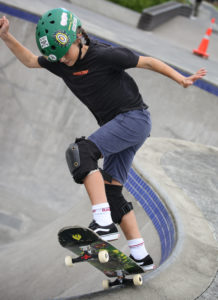 The recent Skate Competition held to celebrate Barry Curtis skatepark's 10th birthday had around 40 competitors on the day aged between 6 – 32 from all over Auckland.
Some of New Zealand's best skateboarders were at the event including Lenard Tejada, Cato Dobbs and Shan Foster.
Howick Local Board member Mike Turinsky, who has been involved with the skate park community support committee from before the park was built, says he has continued to believe that providing a safe adult presence at the park is vital for the community.
"The work of the skate park custodians really pays off and I'm really happy that the board continues to support youth in our community by providing a safe place to recreate.
Skateboarders and scooter riders turned out in force to celebrate the 10th birthday of the Barry Curtis Park Skateboarding facility in Flat Bush."The custodians are funded through the Howick Local Board and investment that has paid off by producing a positive culture at one of Auckland's premier skate parks."
Simon Thorp, the organiser of the skate competition, says the skate park and its community has been well looked after over the years by Gavin Wharekawa and Jei Sien from Skatepark Maintenance Services.
The results of the event, judged by organiser Simon Thorp and Buff Morice, with pro skateboarder Umberto Skinner, on the microphone are:
Lenard Tejada won first place in Open Mens skate championship. Times photo Wayne MartinU13
1st Mateus Palmeira
2nd Ricco Kahi
3rd Scout Styles
U17
1st Cobe Cook
2nd Max Luiten
3rd Jamie Bucknor
GIRLS
1st Jessica Ready
2nd Mika Harrison
3rd Millie Dunn
OPEN MENS
1st Lenard Tejada
2nd Cato Dobbs
3rd Lexus Waipouri