Over 120 women celebrated 125 years of Women's Suffrage at a women's conference held at Bucklands and Eastern Beach War Memorial Hall on the weekend.
Robust discussions were held from women's health to mental health and women's empowerment as the attendees broke up into groups at the annual conference of the New Zealand Indian Central Association (NZICA).
Thought provoking group discussions were led by Dr Claire Badenhorst, Dr Pervin Dalal, Dr Bhavana Patel, Dr Keerthna Kamath and Dr Vandana Resela.
Organised by Dr Primla Khar, chairperson Women's Forum NZICA, the day-long event incorporated a plethora of activities from discussions to talks by women who walk the talk like the former Governor General's wife Lady Susan Satyanand and Minister for Ethnic Communities, Building and Construction, Education and Health, Jenni Salesa as well as politician and trade unionist Laila Harre.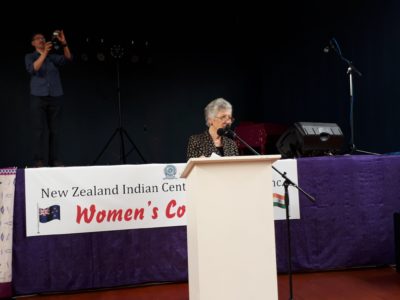 "One of the differences between the genders is that a woman's head is always influenced by her heart and a man's heart is in his head," said lady Satyanand light-heartedly. "It always begins when you sink into his arms and ends with your hands in the sink."
`So how is life now that Dr Anand Satyanand is no more the Governor General of New Zealand,' asked one, to which her prompt reply was " I feel more self reliant now that I don't have other doing things for me."
Members of Parliament Priyanca Radhakrishnan and Paramjit Parmar were also there to cheer and inspire women to look after each other.
"It is only apt that NZICA Women's Forum decided to hold their Annual Conference as a celebration of 125 years of Women's Suffrage in New Zealand. It is an opportune time to promote the well being of all and women in particular," said Dr Khar.
There was plenty to keep women of all ages, professions and calibre well nourished at the conference.
A soul-stirring dance drama performance by the youth challenging Women's Empowerment as Reality or Myth had everyone glued to their seats as it sensitively broached the topic of sexual abuse. It was followed by a presentation by Sri Rashmi which pushed women to seek an answer from within–do we recognise abuse? Are we open to discuss it?
The Tale of Kate Sheppard, a dramatic adaptation of the women's suffragette movement in New Zealand that changed the course of history, also had the delegates sit up and take notice.
A session on financial tips for women by Dr Manisha Dullu had women take notes.
Adding to the fun factor was a Punjabi dance performance by Gurpreet and her team from Punjabi Cultural Association. A chair yoga session by Neelu Taore from the Art of Living had everyone in a relaxed mood, talking about well being and the release of happy hormones.