In an age of short attention spans, gardening in schools is making a huge comeback.
Friday morning was evidence of that as students and teachers from six local schools – Farm Cove Intermediate, Willowbank School, Sunnyhills, Wakaaranga Primary, Tyndale Park Christian School and Ormiston Junior College – shared stories of how the Fruit Trees in Schools initiative is encouraging school kids to get their hands dirty.
In its fourth year, the programme which is part of the Healthy Howick initiative and funded by the Howick Local Board, is helping students unearth the fruits of their hard labour.
Plant Barn Botany is a hot bed of activity as students, teachers and Howick Local Board members David Collings, Katrina Bungard, Adele While and John Spiller get a quick lesson from plant doctors on how to get to the root of the matter and work with vegetable garden kits.
Joseph D'Ambrosio, a teacher from Farm Cove Intermediate, says the school has 30 fruit trees and two bee hives that produce 7kg of honey every season.
He takes pride in the fact that Farm Cove Intermediate will be using home-grown vegetable for the Koanga Spring Festival on the day.
"The kumara that we have grown in our school gardens will be used for hangi," he says.
So enthused is he by the act of gardening that helps students relax while also delivering plenty of health benefits that he is currently doing a Masters and the thesis is "Teacher's perception of garden-based learning".
Sharon Baldwin from Willowbank School says that digging deep in the school garden has been an enriching journey.
"We have parents buying silverbeet, spinach, lettuce, broccoli, cabbage, beetroot, parsley and other fruits from our gardens. This helps us to raise money to buy more supplies for our fruit and vege garden."
Equally enthused is Annami Blom from Tyndale Park Christian School who says that vegetable gardens teach students where their food comes from.
"They get to learn more about the eco system, soil biology and fertilisation. It gets children to be thinkers and workers and creates an inter-generational link between grandchildren and grandparents," she adds.
The fruitful initiative that brings communities and school networks together has reached out to 26 schools in the last three years, says Mrs Bungard.
"Now in its fourth year, this year we have 17 schools and kindergartens receiving fruit trees and vegetable gardens and advice this year."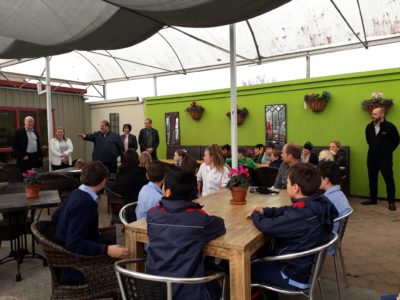 Taking the project a step further based on the feedback from students and teachers, local schools are now keen to develop vegetable gardens in their schools.
Gustavo Ferreira, specialist advisor Auckland Council Community Empowerment Unit says, "One of the reasons for that would be a higher involvement of students, since a vegetable garden is more hands-on. We have taken their feedback on board and are now also providing vegetable garden kits.
"Our partner, Kings Plant Barn, offers free-of-charge consultation to the schools on the existing fruit trees and on how to establish the new vegetable gardens."
This year schools can choose from three different garden kit options.
Chris Hall, Plant Barn CEO, rounds up saying that there was a missed generation of gardeners and now it's a tree-mendous experience to see kids get off their laptops and enjoy gardening.