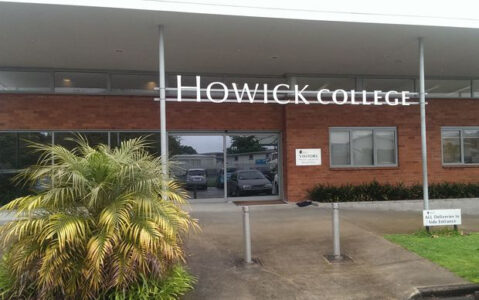 A Howick College student who attended school yesterday – Monday November 22 – is suspected as having Covid-19.
The student, who is in Year 10, was in a single bubble for the entire day with seven other students, Howick College principal Iva Ropati said.
"The student may have contracted the virus from a family member who was hospitalised this morning," Ropati said.
"Another family member who lives in the same household has tested positive.
"All of the student's close contacts and staff have been notified and have been asked to be tested and to isolate until we receive his confirmed test results."
The room that was used by the student has undergone a deep clean.
The school has been working closely with Public Health and Ministry of Education officials to guide its response.
Ropati confirmed the school will remain open.
"Based on international and local evidence and experience, the risk of Covid-19 transmission within school settings is considered low," he said.
"This means that it is no longer necessary for the school to immediately close when a case has been identified as infectious while at school. We remain open as usual."
The suspected case follows one reported on November 6 in which a cleaner at Howick College who was double-vaccinated tested positive for Covid.
The school today included guidance for students and staff in a note to the school community (see below).
Vaccination
If you and your family have not yet been vaccinated, you are encouraged to get vaccinated as soon as possible. ● You can book online at www.bookmyvaccine.covid19.health.nz. There is information on this website about finding your closest walk-in vaccination centre
If you have been identified as a contact of the case, please wait until your isolation period has finished to get vaccinated.
Please watch for symptoms of Covid-19
If you develop any of the following symptoms, no matter how mild, ring Healthline on 0800 358 5453 or your doctor, and get tested. Healthline is a free, 24/7 service with interpreters available.
Common symptoms of Covid-19 are like those found with illnesses such as a cold or influenza. You may have one or more of the following:
new or worsening cough
sneezing and runny nose
fever
temporary loss of smell or altered sense of taste
sore throat
shortness of breath Less common symptoms of Covid-19 may include diarrhoea, headache, muscle aches, nausea, vomiting, malaise, chest pain, abdominal pain, joint pain, or confusion/irritability. These almost always occur with one or more of the common symptoms.
Please stay at home while waiting for test results. Please contact the school if you have any questions or you can call the Covid 19 Healthline on 0800 358 5453 for advice.