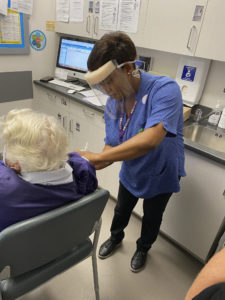 As the national Covid-19 vaccination rollout ramps up, three local practices have been trialling vaccinations through their clinics on a strict appointment-only basis.
There are four early adopters in Auckland – East Care Urgent Care in Botany, Ormiston Medical Centre near Ormiston Town Centre and Highland Park Medical in Highland Park. The fourth clinic is on Waiheke Island.
Gordon Armstrong, chief executive at the Care Group which operates two of the clinics – East Care and Ormiston Medical – underlined that none of the practices could accept walk-ins which have proven hugely problematic with large-scale vaccination centres like that in Highbrook.
Highbrook has reportedly had to stop vaccinations several times after being swamped with walk-ins. Many who had appointments waited for hours or were turned away. The Times has contacted the district health board for comment.
Meanwhile, the local community clinics and their collective approach to getting more people vaccinated is likely to be taken nationwide, possibly next month or in July.
"We are doing community vaccinations by appointment," said Armstrong.
"East Care and the other clinics are picking up over 65s and Maori/Pasifika from our community. As time goes on, more general practices will come on board. If you are eligible for a vaccine, you should contact your usual GP who can direct you to the right place.
"We are pleased to be providing this service to our community. It's particularly pleasing that three out of the four early adopter clinics are in the Botany and Howick area."
Armstrong said East Care had only commenced its community vaccinations last week. It has been working in partnership with Counties Manukau District Health Board to set up the vaccination services.
Brett Hyland, director of My Health Team Limited, began vaccinations from its Highland Park Medical practice on Wednesday.
"It is strictly by appointment only as we are running this a normal general practice vaccination clinic," Hyland said.
"It's only for enrolled patients at the moment due to the volume of patients we have to administer the vaccine to. The plan is that we can help show the way that general practice can manage the Covid vaccination and so many more clinics will become accredited by the DHB to deliver vaccines to their patients."
He said they will providing the Covid Vaccines for both Highland Park Medical and Marina Medical.
Hyland said the planning for vaccinations has to be linked to the three-week cycle for these vaccinations – that is that the second vaccine needs to be given three weeks after the first.
"Therefore we have to start at half speed in the first three weeks to make sure we have capacity from week four to be able to do the second vaccine for patients as well as first vaccinations," said Hyland.
"This also gives our team time to get used to the new IT system, CIR (Covid Immunisation Register) and to get used to some of the special management of the Pfizer (Comirnaty) vaccine."
He said the first three weeks will see Highland Park Medical practice doing 175 per week.
"But by week four we will be ramping up to a sustainable level of over 385 per week and, if staffing levels, enable it, more," said Hyland.
As well as over 65s/Maori-Pasifika, Highland Park is also focused on patients with significant and underlying health conditions or disabilities who would otherwise be more at risk of getting very sick from Covid-19.
"We have worked along side East Health Trust PHO, East Care and Ormiston Medical, to commence an eastern locality response to the challenge of vaccinating the 100,000 + people in the area who will need to be vaccinated," Hyland said.