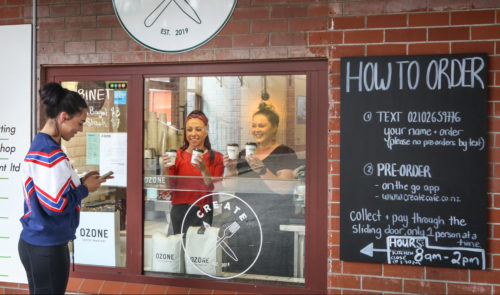 As Prime Minister Jacinda Arden made the most awaited announcement yesterday about moving to Level 2, the Times spoke to an array of businesses in the Howick and Botany areas to find out how businesses in Level 2 will operate.
Matthew Wales general manager of Andrew Simms, Botany, one of the biggest car dealerships in Auckland, says he welcomes operating in Alert Level 2.
"Functioning in Level 3 has been very restrictive and we are waiting to have more interaction with our customers in Level 2. Of course, we will have protocols in place.
"People want to touch, feel and sit in the car when they buy a car which is not possible. Alert Level 3 limits our ability to do business.  We've been operating our service centre with drop-offs and a good sanitisation process in place. Contactless servicing has involved being in touch with customers over the internet for drop-offs and pick-ups."
Frith Jenkins, practice manager of Howick Village Optometrist, says that they already have a long list of clients (almost 83 booked for eye check-up appointments) but will only know how they will go about it once the Prime Minister says that all retailers can function in Level 2.
"You can call Howick Village Optometrist for an appointment now if you wish to book one," she says.
Jenny Foster of the Howick Business Association says that with regards to bringing back the Howick Farmers Market, they have plan A and B in place. "The Farmers Markets have not been operating in Level 3 but, depending on how many people are allowed in open air markets, whether it is 100 or 500, we will make a decision accordingly," she says.
Bridgette Young from Off the Fringe Organic Hair studio in Howick says it is going to be very different for hairdressers and other businesses that work in close proximity to their clients in Level 2.
"We have had to put into place extremely stringent hygiene practices, robust contact tracing procedures as well as still offering a pleasant experience in the salon."
And while everyone wants the very first appointment available, Bridgette says it is not practical. "We will have to work at much lower capacity in volume of clients in the salon at any given time.
"Off the Fringe will look very different from our normal. The team will be wearing appropriate PPE gear that is yet to be decided by the government and WorkSafe. We will be only having two stylists on the floor at one time and will not be able to offer beverages in the salon; clients will be encouraged to bring their own to the salon," she says.
"There will be hand-sanitising stations around the salon in preparation and an Eftpos pay-wave available to minimise contact at the front desk. Each client will be given their own salon cape to wear and these will be washed after each use.
"We will be open seven days a week to allow our teamwork on a roster."
Retailers in Rices Mall and throughout Howick Village are working hard in preparation for the re-opening of their businesses.
And while everyone is eager to get back to business after lockdown, Avenrose florists Karen and Lemin at Rices Mall are all set to brighten everyone's day. They have fashioned a special montage of flowers outside their shop where people can have their photograph taken to mark their return to partial normality.