Flat Bush couple Tilak and wife Sunu Wadhwa are overjoyed to be back on New Zealand soil.
Their repatriation from India during the global Covid-19 pandemic was nothing short of epic.
Everyone spontaneously rose and clapped when the Air New Zealand crew walked into the departure lounge at Chhatrapati Shivaji International Airport in Mumbai to board the private repatriation flight to bring New Zealanders home.
A sense of gratitude and warmth enveloped the departure lounge as the crew, who volunteered their services to fly to India to help stranded Kiwis return home on April 27, were loudly cheered.
New Zealand has assisted close to 1570 New Zealanders and their families to access government or privately-facilitated repatriation flights, in addition to providing significant numbers of other New Zealanders with consular assistance to shelter in place or return via commercial flights.
The Indian operation has been the largest and the most complex repatriation mission the Government has undertaken to date, with more than 1360 expressions of interest from those registered with Safe Travel.
"It must have been a herculean task for the New Zealand government to get things moving in India," says Tilak Wadhwa, one of the 206 passengers who boarded the government-assisted repatriation flight from India to Christchurch.
"I cannot even begin to think of the logistical nightmare as passengers from different parts of India including Goa, Gujarat, Bangalore, Chennai and Hyderabad were transported to the Mumbai airport by a special coach arranged by the New Zealand High Commission," he says.
Some of the passengers, including the old and frail, travelled for over 18 hours by road to reach the international airport which was practically deserted.
The process was a lengthy and tiring with everyone maintaining social distance and plenty of processes in place.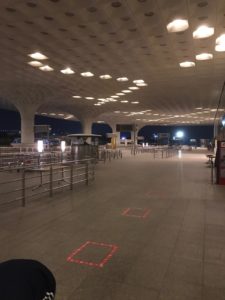 A moment that will stay with Tilak and wife Sunu forever, is the time when passengers sang the Indian National Anthem followed by the New Zealand National Anthem before boarding the flight.
"It gave me goosebumps. You could see that everyone was really emotional as the New Zealand government went out of their way to show they care at a time when no international flights are allowed into India, and a lot of Indians are stranded abroad," says Tilak.
Once they boarded the flight at 2 am on April 27—with random seating in First Class, Business and Economy–there was some social distance maintained.
"While we were told to make arrangement for our own vegetarian meals just in case the airline couldn't manage it, there was good vegetarian and non-vegetarian food served," he says.
However, the highlight of the historic journey was just before landing, as passengers were informed there is a special treat in store.
Taking everyone by surprise was the crew dancing to the beat of Slumdog Millionaire's 'Jai Ho'.
It helped lighten up the mood on the first-ever 13-hour direct flight from Mumbai to Christchurch.
"We touched down at Christchurch airport at 10.30 pm and there were heaps of medical staff, customs and police," says Tilak.
After a few hours of filling forms, they headed to the hotel, where they are currently staying for two weeks in social isolation.
The grateful couple now can't wait to get back to Auckland, just in time for the birth of their first grandchild.