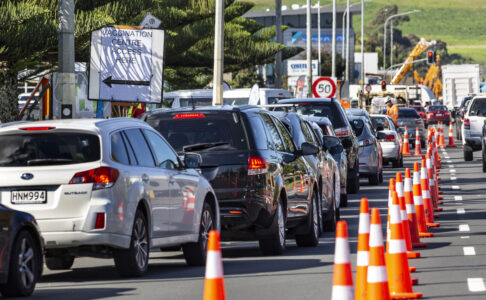 People who may have received an incorrect dose of the Covid-19 vaccine in east Auckland are being offered the chance to receive a third dose and they'll have to sign a waiver before doing so.
As the Times has previously reported, the Ministry of Health believes some people may have received an incorrect vaccine dose at the Highbrook vaccination centre on July 12.
Jo Gibbs, the national director for the Covid-19 vaccine and immunisation programme, says a situation arose where the end-of-day reconciliation of doses didn't match those administered.
"Although no patient harm would have resulted, at this stage we can't rule out the possibility that five people may have received an incorrect vaccine dose.
"The situation that occurred relates to just five doses that were unaccounted for at the end of that day, during which 732 people were vaccinated."
Gibbs says the error may have happened due to some vaccinators getting more than the regular number of doses out of some vials and forgetting to record it, or some people received an incorrect vaccine dose.
The Ministry of Health has since written to people vaccinated at the Highbrook centre on July 12 to inform them of the situation.
Northern Region Health Co-ordination Centre clinical director Dr Anthony Jordan says the centre sent out further information and detailed guidance on September 10 to 731 people who attended the Highbrook vaccination centre on July 12.
"This is in response to the possibility up to five people who attended on that day may have received a lower dose than intended," Jordan told the Times.
"There is also a possibility this was a recording error.
"We have written to those who attended the centre that day to offer them the option of a third [vaccine] dose if they wish to take this up, and will continue to provide them with support."
Jordan says while there is a less than one per cent chance someone may have received a more diluted dose at Highbrook on July 12, it's important they're offered a choice of an additional dose and understand the benefits or risks associated with choosing to take it up or not.
"We have provided those who attended the centre that day with a comprehensive range of information and have encouraged them to speak to a medical professional, such as their doctor or one of our Healthline professionals, to help them to make an informed decision.
"The consultation will be free."
Jordan says signing a consent form confirms people have had the chance to read and discuss the information around receiving a third Covid-19 vaccine dose, as it is currently not part of the standard vaccination programme.
"The letters were issued following a thorough investigation and we worked closely with the Ministry of Health and a range of experts to develop appropriate health advice.
"We have also put in place new systems and processes that will reduce the likelihood of an event like this happening again."