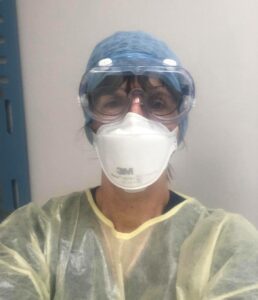 Carolyn Fowler always thought a pandemic was inevitable.
"We had a SARs scare not long before that," she says.
"That was a lot scarier in some ways."
Fowler, 59, lives in Beachlands and has been an anaesthetist for 35 years.
She attended the University of Otago for a Bachelors of Science in biochemistry and physiology and then completed her degree in medicine.
"My brother burnt his feet badly when I was young," she says. "We went to the hospital to visit him and I found it massively interesting."
She previously found anaesthesia a struggle. However, when she was a senior house officer in anaesthetics, she woke up one morning and "everything fell into place".
"It was like – bang!" she says. "After that I was really in love with it."
Fowler currently works at Middlemore Hospital. When Covid-19 struck New Zealand, she says her anxiety was less-centred around contracting it and more on the three central issues within healthcare. "In my opinion, there aren't enough healthcare resources here for diseases like Covid," she says.
"We don't have enough ICU (intensive care) beds in normal time – so we definitely don't have enough for a pandemic.
"We don't have enough people trained to do that."
At the beginning of the outbreak in March of last year, Fowler and her colleagues were worried about an outbreak in South Auckland.
"We thought there'd be a lot of deaths if there was a significant cluster there."
The third – and maybe the most significant to health care professionals – was that, if there were a lot of patients sick, the worry was "that we'd have to make decisions we've never made before. Like who gets care."
"Every time you make that decision it scars you for life."
Staff at hospitals had to learn a lot of new and complicated safety protocols in regard to treating suspected or confirmed Covid-19 cases. Additionally, because the anaesthesia and critical care departments often work together during the pandemic, they share staff.
"I put my name down to work in intensive care if I was needed," Fowler says.
"We all have had training in the ICU."
In order to free up resources and reduce risk to patients and staff, a lot of elective surgeries were cancelled.
"There was a lot of anxiety. We lost a lot of staff due to them being a higher risk themselves or having family at risk. Or they may have been at a location of interest."
As recurrent lockdowns occurred, Fowler says that hospital staff were more prepared in safety protocols and training.
"We are also fully vaccinated," she says.
There is still a lingering sense of anxiety and fear. "We are still worried about South Auckland," Fowler says.
If New Zealand had the same substantial more cases and severe outbreaks as other countries, the results would've been a significant strain on the health care system, Fowler told the Times.
"It would've been carnage," she says.
"Personally, I believe we still don't have enough resources".
DISCLAIMER: Dr Carolyn Fowler is the mother of journalist Zoe Garden.