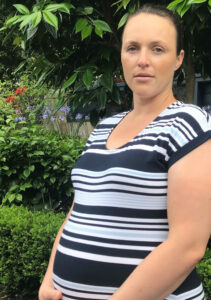 An east Auckland woman is hopeful her mother can get to New Zealand in time to help with the birth of her second child.
Cockle Bay resident Pia Rampling is part of a group of Kiwis backing a petition that asks the Government to allow overseas-based parents of citizens and permanent residents to enter the country.
New Zealand's borders are closed to most travellers except for Kiwi citizens and residents and their partners and dependent children, as part of Covid-19 restrictions.
Rampling is an Australian citizen who's lived here for almost nine years.
Her husband is a New Zealand citizen and her baby is due in early February next year.
Rampling's parents hold Australian passports and live in Australia.
Her mother has been "desperately" trying to book a space in mandatory isolation and quarantine (MIQ) and travel to New Zealand for mid-January next year to help her daughter and son-in-law with their baby's arrival.
"Having finally secured a room, after many failed attempts, on January 20 aligning with a red flight on MIQ's website, she [her mother] was unable to book her red flight," Rampling says.
"Hours and hours of waiting to speak to various stakeholders in the MIQ system ensued.
"Air New Zealand confirmed all red flights have been cancelled from January 17 as Australian travellers no longer need MIQ, but those travellers need to be New Zealand citizens or residents and their partner/dependants only.
"MIQ had no idea red flights were cancelled and still advertised their availability.
"I couldn't get through to Immigration NZ after 10 hours on hold to check whether my … mother could enter the country and isolate at home with us.
"So we're losing her MIQ spot, with no ability to get her here, after so much heartache."
Rampling says she's learned Australian citizens aren't allowed to enter New Zealand until May 1 next year under the 'general tourist and foreign nationals' category.
"She's not a tourist, she's my mother, and we can't get her here, not even via MIQ.
"The petition is to try to make this Government realise parents of citizens and permanent residents in New Zealand are family too."
According to the Ministry of Business, Innovation, and Employment, which oversees the MIQ system, quarantine-free travel from Australia to New Zealand is currently suspended.
Prime Minister Jacinda Ardern recently announced her Government's three-step strategy for reconnecting New Zealand with the world.
It allows fully vaccinated Kiwis to travel to New Zealand from January next year without entering MIQ.
The country will open to fully vaccinated Kiwis and other eligible travellers under the current settings from Australia from 11.59pm on January 16 next year.
It then opens to fully vaccinated Kiwis and other eligible travellers, from all but very high risk countries, from 11.59pm on February 13 next year.
Finally the country opens to fully vaccinated foreign nationals from April 30 next year onward.
The petition closed on December 13 and was signed by more than 4906 people.
Labour Government MP Dr Liz Craig is to present it to Parliament on December 16.