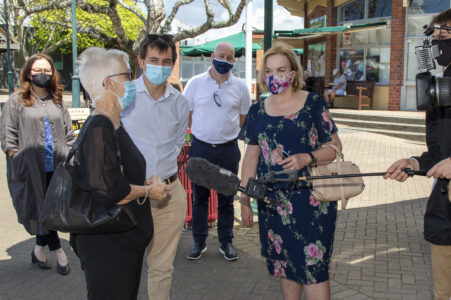 National Party leader Judith Collins was in Howick on Saturday meeting local business owners about the Government's response to the Covid-19 pandemic and its impact on jobs and the economy.
With Collins were local MPs Simeon Brown (Pakuranga) and Christopher Luxon (Botany), as well as National MP Melissa Lee (List). Times Media managing director Reay Neben was among the local businesspeople speaking with Collins and her colleagues.
Collins said the message from Howick businesses was clear.
"They are struggling, and need clarity from the Government about the future," she told the Times.
"Aucklanders have now been locked down for 12 weeks and the Government still can't tell us whether we will be able to have a Christmas holiday or not."
She said this uncertainty is costing people and hurting businesses.
"National has made it clear we should be removing restrictions once we reach 85-90 per cent vaccination or the 1st of December, whichever comes first," said Collins.
MP for Pakuranga Simeon Brown said it was important to get out and listen to local businesses in Howick.
"Whilst Aucklanders are locked down in Level 3, the Prime Minister and her officials are making their decisions from the relative freedom of Level 2 in Wellington, said Brown.
"The decision makers are becoming increasingly out of touch with the needs of Aucklanders and business owners.
"Auckland is now highly-vaccinated and we need a clear plan to re-open rather than the indecisiveness and inaction we are seeing.
"I will continue to advocate strongly for local business owners to have the certainty they need to re-open and stay open."