If our Times Facebook posts are anything to go by, it looks like everyone is on a bear hunt.
It was heartening to see so many readers post photographs of their bear hunt as they captured pictures of teddy bears sitting on street facing windows.
Inspired by Michael Rosen's children's book 'We're going on a Bear Hunt' the teddy bear challenge has been created to entertain kids and adults alike during social isolation.
While it may not be possible to quote everyone, it's easy to tell that cuddly bears peering out of windows, fences and sitting atop mail boxes have added a great deal of good cheer at a time clouded with fear and unease due to Covid-19 lockdown.
Tracey Haugh's image of a cute teddy on the wheel of his very own car sitting beside his best mate with a caption that reads: "Apparently our bears went on their own beer hunt last night", brings an immediate smile.
Adding to the fun factor is Lyn Stevens post: "This is a great idea! – my bear is worried but his friend the chicken reminds him we got over the Bird Flu!"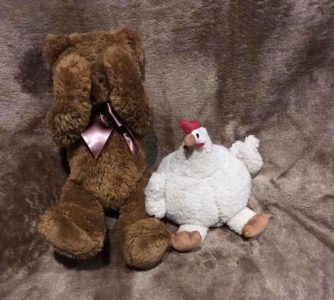 Anna Coates is a bit let down as she says:  "We just walked on the path way from Meadowlands drive to the slim church bridge and back and hardly saw any … was disappointing".
In answer to which Helen Bowden helpfully adds saying: "Heaps in Pakuranga Heights. Kids loved these 2 near Pak 4 Square:)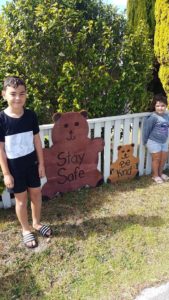 Tania Kokke says that her daughter spotted 30 on their way around the block walk.
Sami Smart is a close second as she spots 29 bears.
Laura Manu's post says her attempts at showcasing teddy bears hasn't been successful so far as she says: "I put teddy bears up and my son keeps pulling them down".
Joining in the banter is Steph Brook whose post says: "Ours is going onto our fence today…. had to work out a 'raincoat!"
Louise Nowell from Kookaburra Place in Botany has shared an image a big bear sitting on the fence as she sends her love to everyone reading this post.