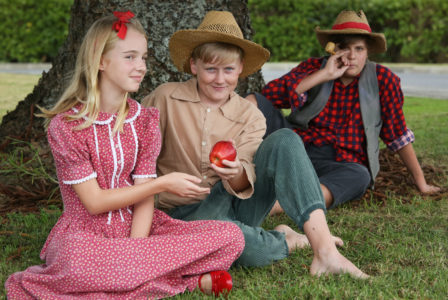 Travel back in time to 1840s Missouri with Howick Children's and Youth Theatre.
The Adventures of Tom Sawyer are coming to life through a cast of 30 children aged between 9 and 14 years.
The family favourite story follows the adventures of an imaginative and mischievous Tom growing up along the Mississippi, based on the 1876 novel by Mark Twain.
The cast, directed by Kelly Raos and Fiona Bailey has rehearsed for six hours a week for eight weeks in order to prepare and can't wait to show off their skills.
Orlando Meadows,13, says he likes playing Tom Sawyer because "I like doing the accent and how he's come from a rough background and gets up to mischief a lot," while Bailey Livingston who plays Tom's best friend Huckleberry Finn says the biggest challenge of the character is remembering all the lines.
Twelve-year-old Olivia Ellis who plays Tom's girlfriend Becky Thatcher is somewhat of a professional — she's been performing since she was 7.
"I have been in four productions so far. I like all the different stories and making them come to life on the stage."
Don't miss the stage version of this bestselling book and movie.Tom Sawyer will be on at Harlequin Theatre, 563 Pakuranga Rd, May 17 and 18 at 7:30pm and May 19 and 20 at 1:30pm and 4:30pm. Five years of age and up. Tickets $8 per person. To book, phone HCYT 537 4944 or email hcyt@xtra.co.nz