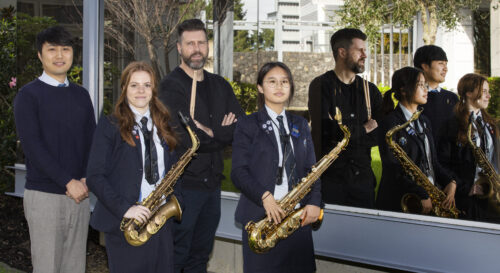 Two talented school bands will join accomplished performers in a double-header gig in east Auckland that's sure to delight jazz music aficionados.
Popular Kiwi jazz-funk band Spiral Collective will showcase their talents at the Picton Centre in Howick on June 26 alongside two bands from Flat Bush school Sancta Maria College.
Their first show, at 3.30pm, will be opened by school band The Fantails.
The second performance, at 7pm, will be opened by fellow Sancta Maria jazz band The Keas.
The two school bands each took home gold awards at the recent Tauranga Jazz Festival.
Spiral Collective has a strong east Auckland connection.
Drummer Steve Harvie lives in Farm Cove and pianist Anthony Hunt in Bucklands Beach.
The band plays original music and released a successful sold-out studio album in 2014.
"We're heavily influenced by more pop or upbeat jazz groups from the US like Chicago or Tower of Power, or more recently like groups such as Snarky Puppy," Harvie says.
"Our music is more danceable and it's supposed to be fun and enjoyable."
Harvie says the band will get through nine or 10 songs at each of the two shows and the two school bands will play four or five songs each.
"We're really excited to have such high quality groups opening for us.
"We originally planned to get bands from two different schools, but I know [Sancta Maria College music teacher] Thomas Cho so when I learned he had these two groups I was like, 'there's our opening acts for these two shows'.
"It will be great for people to see bands they haven't seen before, because Spiral Collective has never played this side of Auckland."
Harvie says he and his bandmates want the two school groups to have the chance to play a professional gig in their local community.
"These will be their debut performances in Auckland. No one's had a chance to see them locally.
"We want to put on a great community event for east Auckland and people can come and see a really good jazz group and support musicians of the future."