If laughing until your cheeks hurt is how you like your musical theatre, you won't want to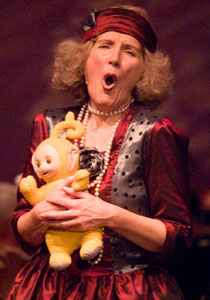 miss Cynthia Fortitude's Farewell – Her Second coming up this December.
Accomplished and self-proclaimed musical clown Helen Moulder stars as Cynthia Fortitude in her farewell concert, performing two shows at Howick Little Theatre (December 10-11).
From the moment she enters to the finishing bow, this musical comedy is guaranteed to entertain.
Miss Fortitude has been commissioned to write an opera for the 2019 Rugby World Cup in Japan, and does so in a hilariously dramatic fashion, throwing out adages like "Art is long, life is short" and challenging audience members to prepare themselves as thoroughly as she has for the show.
The much anticipated non-arrival of her usual accompanist forces Miss Fortitude to employ stand-in accompanist Dr Gottlieb Von Oberstock Winkle Dorf – only to realise that he's overqualified for the role and has a solution for every off-the-cuff problem she encounters.
The patriotic opera, named BALLS, is combined with a farewell concert to her adoring fans, some really high notes, and a daring attempt to break a Mozart speed record.
It's filled with musical mishaps, controlled chaos and flawless on-stage chemistry between the two characters.
The award-winning Ms Moulder has worked in theatre for 40 years in the UK, New Zealand and Australia, starring in many shows including Ken Hill's Phantom of the Opera, Wellington women's comedy troupe Hens' Teeth, and Vita and Virginia in 1998.
She has performed as Cynthia Fortitude for nearly 30 years, and first met accompanist Timothy Bridgewater in 1981 when they performed a Wellington show together.
Now he's back for her second farewell – and brings with him a remarkable resume of past theatre productions, starring as Musical Director for many musicals, including West Side Story, Les Miserables and a national tour of Cats.
It's a show not to be missed.
Music by Gounod, Mozard, Verdi, Humperdinck, Elgar, Puccini, Schubert and Miss Fortitude herself. Musical arrangements by Michael Vinten.
Cynthia Fortitude's Farewell – Her Second is at 7:30pm on December 10 and at 2pm on December 11, Howick Little Theatre, 1 Sir Lloyd Drive, Lloyd Elsmore Park, Pakuranga. Tickets $26 – www.iticket.co.nz.