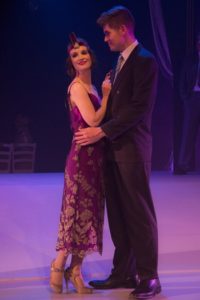 1920s New York has always fascinated me. As America began to recover from the horrors of World War I, the lifestyles of the rich and famous seemed so glamorous.
So when I heard Howick Little Theatre was bringing it all to me in the form of The Great Gatsby — a timeless story of love and tragedy – of course I had to check it out.
Director Laurie Mills brought the play – based on the 2009 Ken Duncan adaptation of the F. Scott Fitzgerald original — to life with the use of a minimalist set.
The play begins with the older Nick Carraway (Euan Chrichton) narrating his story in present day before handing over to his younger self (Dan Webby) and the rest of the cast.
The story follows Nick as he gets drawn into a world of wealth and indulgence through an association with his mysterious neighbour, Jay Gatsby. As Nick goes deeper into Gatsby's world of excess, he becomes caught up in a story of love, longing and loss.
It's not long before we see the dark side of life in post-war America — domestic violence and controlling relationships are unveiled as revelations of betrayal come to light.
Off-the-cuff comments referring to the horrors of interracial marriage also remind us of society's beliefs in the era — and why some things are best left in the past.
That's not to say it's entirely a dark play — in fact it's littered with many moments of comedic relief.
But it's a stark reminder that the glamorous lifestyle was not all it was cracked up to be — and certainly wasn't for everyone. Take the example of George and Myrtle Wilson (Mark Snoad and Charmaine Hey) — a strong contrast to the lifestyles of Gatsby and Tom and Daisy Buchanan who want for nothing material.
Ultimately, the story ends in tragedy — where the thrust stage was utilised perfectly in unison with off stage sound effects.
This performance made me fall in love with the story of Gatsby all over again — and the dramatic end even left me with goose bumps.
But don't take my word for it – head on down to Howick Little Theatre and see for yourself — you'll be transported to another era and you'll love every second of it.
The Great Gatsby is on at Howick Little Theatre now and runs until July 29. Get your tickets from www.iticket.co.nz or call 361 1000 for more information.