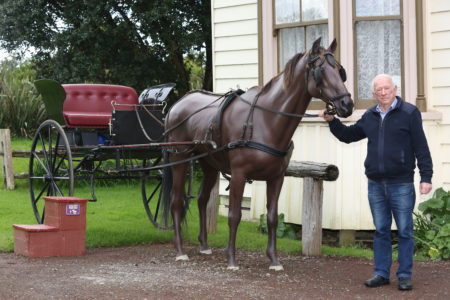 Lew Duffet was truly moved when he heard that the Howick and Districts Historical Society were going to honour the memory of his favourite horse Logan by installing a beautiful fibreglass horse with a carriage at the village.
It's the same horse wagon that Logan used to cart children and adults around, on Live Days at the historical village. The display is in front of the Puhi Nui homestead.
Lew and Logan were a familiar sight for more than 10 years as they would happily trot down Church Street and round the pond, back up to Logan's hitching post by the Courthouse.
"Logan was no ordinary horse and never put a foot wrong," says 78-year-old long standing volunteer who has been associated with the historic village for the last 17 years.
The former engineer still visits the village on Wednesdays to restore old wagons and custom-designed carts.
Lew, an avid horse trekker, bought Logan from the sets of Xena: Warrior Princess in 2000.
"He was a friend to me and in the mornings when I stepped out, it was like he always wished me good morning with a whinny."
Sadly, at the age of 18, Logan developed a tumour in his throat and died on April 4, 2014. Though Lew owned Logan's sister Fleur, things were never the same.
However, with this thoughtful gesture Lew is thrilled that Logan now lives on forever in the hearts of all those who had known him or will get to hear about him at the village.
Visitors to the village will get an opportunity to get dressed in costume and have their photograph taken sitting on the buggy as a memento.