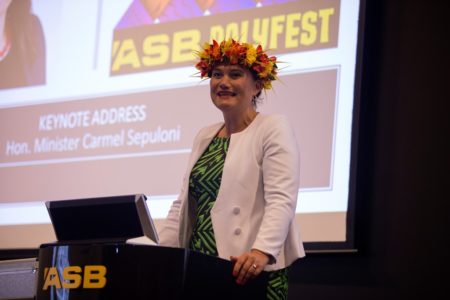 The 2018 ASB Polyfest officially launched last night at ASB's North Wharf.
Across the evening various guest speakers spoke of what performers and the public can look forward to during this year's ASB Polyfest which takes place at the Manukau Sports Bowl from March 14-17.
Associate Minister for Pacific Peoples and newly appointed Minister for Social Development, for Disability Issues and Associate Minister for Arts, Culture and Heritage Hon. Carmel Sepuloni attended last night's launch and said she is looking forward to the upcoming festival.
"ASB Polyfest, being the largest Pacific youth festival in the world, celebrates and showcases the diversity of our cultures, our languages and importantly our youth of today," Ms Sepuloni said.
"Pacific cultures are unique, a point of difference, and our voice", Ms Sepuloni added, "and it is important to nurture cultures and keep that identity alive to ensure our youth thrive on any stage they take on."
Ms Sepuloni asked the principals and teachers in attendance at last night's launch to "encourage and support students to see value in embracing their culture and Pacific identity".  She added that "it was important that youth are confident in their cultural identity, as this will serve as a platform for future success."
This year's ASB Polyfest will see more than 10,000 secondary school students from across the Auckland region perform traditional song, dance and speech on one of the festival's six stages – Cook Islands, Maori, Niue, Samoan, Tongan, and the Diversity stage which features cultures such as Chinese, Fijian, Tokelau, Indian, Korean and Sri Lankan.
Principal of Aorere College, and Chair of the Polyfest Trust, Gregory Pierce said at last night's launch:"This year's ASB Polyfest has attracted a record number of entries with 252 performing groups entered from 69 schools."
ASB Polyfest Festival Director – Seiuli Terri Leo-Mauu spoke of the upcoming festival being 'more than 4 days of competition, speech and performances. It's a place our children can express themselves, it's an avenue that creates time with our Mamas and Papas and learning the old ways of how to weave and make your costumes, how to sing or chant the way they do back home, how to articulate and pronounce words properly, how to be respectful and be disciplined, how to be a LEADER. All these attributes, characteristics, skills, our children take back to school and we hope that they apply these to their studies and future career aspirations."
From 14-17 March, the Manukau Sports Bowl will burst into life with the 43rd staging of the ASB Polyfest.  With the opening powhiri less than a fortnight away, thousands of students across Auckland are practising hard in final rehearsals after school, and weekend practice camps, while tutors and family are frantically preparing costumes.