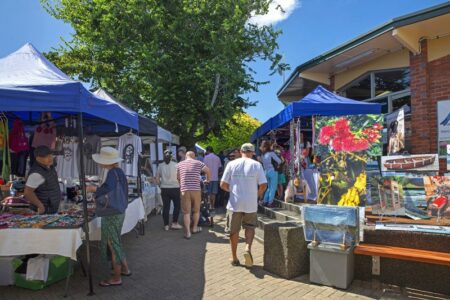 By Ken Scott, Howick Village association chairperson
As the Howick Local Board debates the future of the Howick War Memorial building (aka Howick Information Centre) and the premises remain largely out of reach to our community, it is time to take stock on where and how the Howick Village Association (HVA) supports our local community.
The Howick Village Association is an incorporated society set up in 2006 to support the local businesses and contribute to economic development in the Howick region.
Now anyone with any business knows that businesses cannot survive without the support of their local communities.
Howick is no exception and the HVA has been fully committed to working with the community to deliver activities, events, initiatives and celebrations for the community's benefit.
Just to give you some insight into these, I have listed a few of the 49 initiatives in the last 24 months!
Howick Market – organised and run by HVA
Howick Village Hop
Christmas Fair (was Midnight Madness)
Eco Day
Live and Love Howick campaign
Fun in the Sun
Brit & Euro Car Show Pop-up displays
CCTV upgrades and ongoing maintenance for security in the Village
Village clean-up days with the Beautification Trust
Graffiti removal with the Beautification Trust – ongoing
Pink caravan – supporting Breast Cancer Awareness
Bra collections – supporting Project Uplift
Jammies in June collection – supporting Middlemore Trust
Blankets 4 kids 4 Winter – supporting Rotary Howick
Anzac Display in Fencible Park
Anzac Sound and Light tribute 2022
Knitted Christmas Tree
Santa's Mailbox
Chorus cabinet artwork with the Beautification Trust
Fairy lights on trees throughout Howick Village
Street banner flags
Whale Tail hosting in the Village
Bicycle workstation project with Rotary Howick
Christmas Food Bank Appeal – supporting Salvation Army
Additionally, the HVA has assisted groups accessing the Howick War Memorial building while it remains 'closed' – eg Camelia Project, Howick Art Society, Rotary Howick, Vinyl Sale and Howick Market special events ensuring that some community access is maintained.
We will continue to work hard, lobbying the Howick Local Board to have the Howick War Memorial building available to the community through a well-managed and actively promoted programme run by the HVA.
A supportive community leads to a vibrant business centre and we thank you for your continued support.