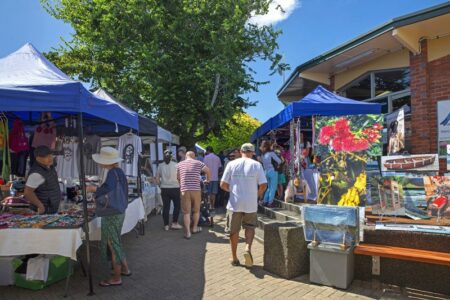 Welcome back to the Howick Village Market – our re-open date is Saturday December 11.
All staff/customers/ stallholders will be fully vaccinated to attend the Howick Village Market.
Vaccine Certificates will be scanned on entry for everyone.
QR coding and mask-wearing is mandatory.
Everyone will be required to keep 1metre distance (with the exception of your own household bubble).
We will have only one entrance into the market on Picton Street. This will have an exit next to it for counting numbers of customers in and out of the market place.
A perimeter will be in place to create a closed market zone.
Extra security and extra staff will be brought in to keep the flow of the market running safely and smoothly.
Stall holders may be in different places to what customers are used to so please search or ask for your favourites.
We appreciate we may not all have the same view, however, by following this process, it enables the market to open and get back to doing what we all want to do… enjoy the beautiful produce and craft of the market we have all missed.