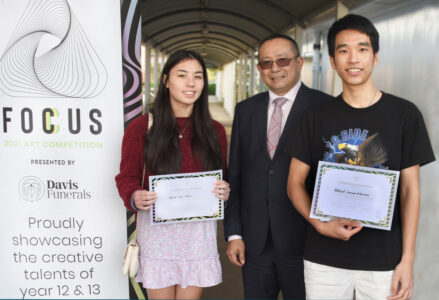 Sixty Year 12 and 13 art and photography students participated in the Focus 2021 Art Competition at Howick College.
Davis Funerals invited local secondary schools Howick College, Botany Secondary College and Edgewater College to take part in the support and showcasing of work by up and coming students.
Pakuranga branch manager Mr Swee Han Lim is passionate about serving the community and supporting rising talents. The Art Competition served as a dual purpose – to be involved within the community and to encourage and support local talent.
"I approached Howick College in January with the idea of hosting," Lim says. "That's when the ball started rolling."
Months later the result was clear and impressive: dozens of pieces of beautiful and diverse paintings and photography covered the walls of the Bill Dimery Performing Arts Centre.
They were on display to the public from July 30 Friday to August 1 Sunday. The results were given on Sunday.
The event was sponsored by Davis Funerals.
Photography
1st place   ($850)                     Wuttipat Jirawanitcharoen – Botany College
2nd place   ($550)                    Sarah Gong – Howick College
3rd place     ($350)                   Cora Delahunty – Howick College
Highly Commendable  ($150) Blake Howell – Edgewater College
Highly Commendable   Harrison Wu – Botany College
Highly Commendable  Renee Anderson – Howick College
Painting
1st place.    ($850)            Skyla Law Chan – Howick College
2nd place.   ($550)                  Ruby Short – Botany College
3rd place.     ($350)                Mikaera Pairama – Howick College
Highly Commendable ($150) Joyce Mei – Howick College
Highly Commendable Angela Cheng – Edgewater College
Highly Commendable  Reupena Salafai – Edgewater College
The competition was judged by AUT Visual Arts lecturers and contemporary artists, Dieneke Janse (photography) and Jeena Shin (painting).
There were two separate categories with significant cash prizes: the first prize ($850) for painting was awarded to Skyla Law-Chan, Year 12, of Howick College for her piece "Mason and Michaela" and the first prize for photography was given to Wuttipat Jirawanitcharoen, Year 13, of Botany College for his piece "One Night in Taiwan".
"I drew people who I'm close too," Skyla says. "I'm interested in who they are as people."
"It's a hobby," she says. "But I'd like to do something in art in the future."
On his winning photograph, Wuttipat says, "I took it because of the lighting. It looked great."
He told the Times that he would love to pursue a career in photography. "I've been doing it since I was ten. When you take a photo of something, you see a different perspective on it."
There was also a prize of $1000 to the top school which was won by Howick College.
Lim says the exhibition and prize giving results were "fantastic".
"It's about the students," he says. "I hope it encourages more participation in events like these."