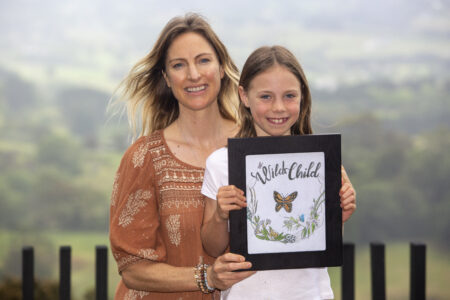 A Cockle Bay Primary Enviroschool student's win in a competition will see her t-shirt design be sold via a webstore.
Nine-year-old Olivia Saxton was crowned the champion of Moths and Butterflies of NZ Trust's 'Design a T-shirt' contest on December 6. People were asked to make up their own butterfly-related t-shirt and to send in a sketch.
Olivia's winning colourful and imaginative sketch will be printed by Print Mighty and available shortly in children's sizes on Moths and Butterfly's online store.
"It's really exciting for her," mum Maddy Saxton says. "She's really keen to advocate for looking after the earth and animals."
An eco-warrior ambassador of four years at Cockle Bay Primary, Olivia holds a passion for nature, animals and art, says Maddy.
She has another club on the side she initiated called the Wildlife Rescue Paws.
"Her passion for nature and animals is something she's always had," Maddy says.
"She's always been curious about plants. She goes out and collects little dandelions and flowers."
Additionally she is repeatedly saving baby animals, says Maddy. "We have a cat that brings home birds and rabbits," she says. "She's always wanted to try and nurse them back to life."
As an eco-warrior, Olivia and other students participate in planting days and collecting rubbish from beaches and parks.
"It's a great example of having the children advocating for our future," Maddy says. "All the education that's been happening in the schools, in the community, is working. We have all these little wonderful advocates. I'm excited to see where this goes."