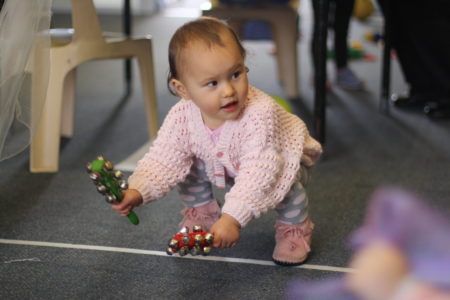 There's a new playgroup in town and parents and caregivers are invited to bring their little ones to join the fun.
East City Wesleyan Church hosts playgroup every Wednesday and Friday from 9.30am to 11am and playgroup coordinator Rebecca Bowlin says it's a "great place to help children grow intellectually, physically, socially, emotionally and spiritually."
Using a new curriculum called Sing n' Sprout which focuses on music and movement, the focus is on teaching children gross motor skills and improving their rhythm and coordination through song. The curriculum also works on crossing the mid-line which aids in reading and writing in later years by connecting both sides of a child's brain.
Bowlin says: "Children are playing, learning and developing and parents get much needed social interaction because it can be quite isolating if you're home with your child all day."
The mother of one says the group works hard to be all inclusive, offering a mandarin speaker on a regular basis to work as an interpreter for the mandarin speaking parents and children, who make up a significant portion of the playgroup.
This term the group will also be having regular visits from a former public health nurse with years of experience working with children, to answer questions and concerns from mothers.
"Our goal is to create an atmosphere where everyone is welcomed and comfortable to play and learn," says Bowlin.