The country may be on lockdown but, thanks to the internet, we can still dive into a good book – or several. Here are just a few titles members of the Times team have enjoyed of late.
Eat Your Heart Out
Whether we say liebe, lyublyu, amore, amour or even hkyithkyinnmayttar, love carries the same meaning in any language.
From the sublime to the ridiculous, heart-warming and heart-rending to the passionate and poignant, the tales in this book are sure to appeal to anyone who's hopelessly devoted or sworn that they'll never love again.
Told with Peta's inimitable humour, Eat Your Heart Out is a feast of fancies with delicacies running both sweet and sour.
Peta Mathias: Eat Your Heart Out – Love Stories from around the World | Random House NZ
Blue Moon by Lee Child
A chance encounter on a bus leads Lee Child's indomitable character, Jack Reacher, to undertaking yet another exciting adventure.
As two ruthless rival gangs compete for control of the city, only one man has the skills to mete out justice during the ensuing life and death struggle.
Lee Child: Blue Moon | Bantam Press
The Girl Who Reads on the Metro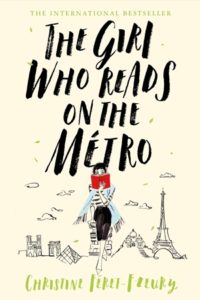 While it may not be advisable to judge a person on their looks alone, it seems one can judge a book by its cover.
By stepping off her regular train a few stops early, Juliette (aka The Girl Who Reads on the Metro) finds herself stepping into an interesting role at an enchanting bookshop.
However, will her new job prove a pleasure or will she find that reading people is not always as straight-forward as she may have thought.
Christine Féret-Fleury: The Girl Who Reads on the Metro | MacMillan
Please note: while bookstores may be closed, e-editions of all of all these titles are available online.