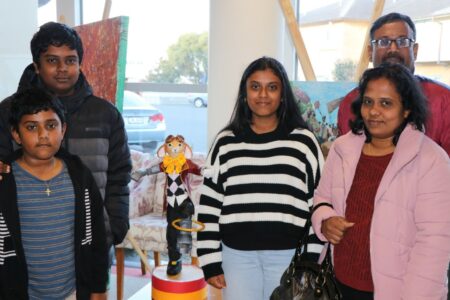 An east Auckland retirement village hosted an art exhibition featuring work by a collection of talented young locals.
The showcase at Pakuranga Park Village on August 10 was open to the public and donations were welcome.
Real Living Group director Chris Murphy says the exhibition included four artists from Blenheim and two from Auckland.
Their works were on sale. Pakuranga College senior art students were also invited to participate.
The school saw it as an opportunity for their students to publicly display their work and meet established artists.
The exhibition aimed to create a place where art, artists and ideas "came together in conversation with local audiences", Murphy says.
The artists displaying their works included Jadzia MichnaKonigstorfer, Hayley King, Nikki Roberton, Arlin Sukarlin, Sarah Higgins and Fiona Ehn.
"It's part of the village's efforts to give back to the community," Murphy says.
Pakuranga College was donated an artwork by one of the artists involved, Arlin Sukarlin, a fisher from Blenheim.
He's a member of the Marlborough Art Society and regularly donates to schools so they can fundraise, which is the intent with the painting donated to Pakuranga College.
One student's artwork, Danita Kinupagaran, titled The Great Hoop-spinning Maestro, sold at the exhibition.
The koha (donation) entry to the exhibition raised $267 for the school's art department.
The head of the school's art faculty, Julie Woodward, says the students were thrilled to be in the exhibition.
"There were a number that brought family or friends to see the work," she says.
"This is the start of a further relationship of exhibitions between the village and the college."