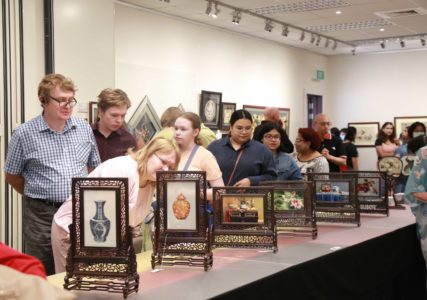 It was a brilliant way to engage the community.
Fo Guang Yuan Art Gallery, located at the Fo Guang Shan Buddhist temple recently hosted its first Art Buffet just before Auckland went into Level 3 lockdown for the second time.
The aesthetically crafted art buffet was attended by 120 artists, friends of the art gallery, art enthusiasts, and their families and friends from across Auckland.
Alongside the incredible Magnificence Embroidery Exhibition, the guests were treated to a yummy array of vegetarian food – a true feast for the senses.
Gallery staff Vicky Han welcomed everyone saying the Art Buffet is to share happiness, joy and peace within the community.
"The temple is such a beautiful and peaceful place for everyone to enjoy delicious food with friends and loved ones while enjoying the peaceful atmosphere," she said.
Vicky thanked curator, Venerable Abbess Manshin for leading the team to set up the grand Art Buffet, as well as the volunteers for their effort in preparing tasty food.
Two guided tour sessions of The Magnificence Embroidery Exhibition provided an opportunity for the attendees to hear the artist's story and techniques used by Ms Yao to create exquisite works of art.
A performance from the youth group made the Art Buffet even more entertaining.
The second Art Buffet is scheduled for Saturday, March 27.