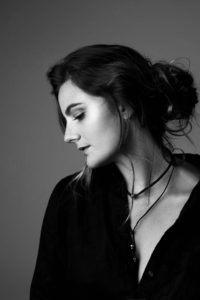 With bated breath, the whole family sat down to watch it.
When the prolific songwriter and pop singer Anderson Rocio was told by Think Music Inc, a  licensing agency in Los Angeles that  Paradise the song she wrote, features in the fifth episode of  Lucifer season five, currently screening on Netflix (premiered on August 21) she was over the moon!
She couldn't believe it that it made it to the Global Top 50 charts in two days.
"The rate the song is getting shazamed (Shazam has had 1,61,563 people use the service to find the song) is going nuts!" says the 26-year-old who trained on piano from the age of six and has a Bachelors degree in music.
"There are people dancing on it and sending me videos. They say it is so inspiring. The song has hit the number three spot in the US, UK and Germany; number one in Australia and Canada, and number two in France."
She admits she was excited the song has got a good placement.
"It's at a pivotal moment, an emotional moment. The focus is on the song featuring the character Mazikeen, played by actress Lesley-Ann Brandt, who I really want to meet someday," says Anderson who shuttles between LA and New Zealand
It all happened when Think Music, asked her if she could write a happy-sad song in exactly two hours!
"So I wrote it, composed the lyrics and sang it," laughs the songwriter who doesn't bat an eyelid about writing a song a day and has written 1000s of songs.
The Half Moon Bay resident also writes lyrics and melodies for other artists.
Half Spanish and half American–Anderson says she is a patchwork of nationalities, a mix of cultures.
"I was born in Italy, lived in England before the family took off on a 44ft catamaran halfway across the world–along with a Yamaha p60 piano–sailing for three years before we made Queenstown their new home.
"My dad is a marine biologist who sets up aquariums all over the world. I have a twin brother who plays the guitar and my older brother is a pianist. He is a prodigy."
Anderson was also a pro-kite-surfer till she had injuries and decided to go back to her first love, songwriting.
Interestingly in 2017, just six months after she met her future husband Wayne Pottow who lives in Half Moon Bay, she bought a one-way ticket to LA to write and record her first self-titled EP, a five-song EP, produced by Grammy award-winning engineer Cassidy Turbin.
"Much as I love New Zealand, the energy in LA is incredible. The first three months were tough. It's the worst-case scenario which often brings out the best in you. I was looking for a ticket back home till I met friends who were lifesavers," she says.
The couple tied the knot in February with guests from all over the world and have been in Auckland ever since.
Anderson has a new single coming out soon. By the end of the year, the talented songwriter and pop singer looks forward to playing at shows.